NYCC '15: Deus Ex: Mankind Divided Still A Sausage Fest
By Madeline Ricchiuto

Game designers Jean-Francis Dugas and Jonathan Jacques-Bellete alongside voice actor Elias Toufexis discussed Deus Ex in a panel moderated by Sacha Ramtohul of Game Informer.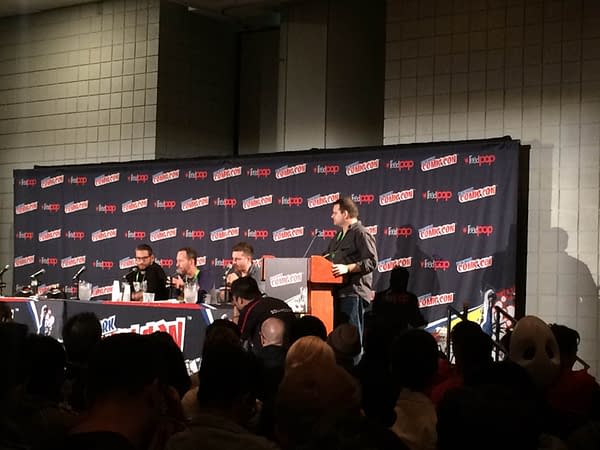 The panel began with the E3 Demo sans the boss fight at the end. The audience was very fond of Jensen's shootable gun-arm blades.

"We wanted to make sure there are female combatants… We call this gender neutral violence" which is certainly one way to deal with your lack of female characters, but just being able to murder random female NPCs is not what I'd call a progressive stance. Yes it is always nice to see enemy NPCs that are women, they don't replace actual characters. It would be nice if there were more than one female character in any of the footage revealed so far.

There will be a novelization by Titan publishing, as well as an art book and a 5-issue comic that take place between Human Rev and Mankind Divided.

"Adam is torn, he wants to do what is right… But he's working for this task force that has no other augmented people… On his own he doesn't look Augmented so he can blend in to a degree, but he sees these poor people who cannot… The empathy he feels for them is very powerful," Toufexis said about his acting choices in voicing Adam Jensen.

The development team are trying to show a more nuanced world. "Even for us in 2015 it is still s thing that you have to be aware of", Belette said. There is a segregation of humanity in this new Deus Ex,which created an environment which needs to be handled with a deft touch.
"One of the things I loved about playing Adam this time around is that… Its really up to you how you treat these people." Toufexis said about recording all the different outcomes of each interaction.

A lot of the architecture is based on Brutalism. Showing this new world order through the setting as well as story.

The game is a big terrorist investigation alongside the personal journey of Adam Jensen. "Nothing is as it seems on the surface."

Toufexis recommended that players do all the side missions. "The replay value is going to be amazing."