Paizo and the Glass Cannon Network Extend Partnership
Role playing games like Pathfinder are an exceptional way to tell a story, and a good game master can weave an entertaining narrative through the actions of their play group's characters. An excellent game master with imaginative players can take that exchange and kick it all the way up to eleven!
The Glass Cannon Network has been producing weekly podcasts using Paizo Inc.'s Pathfinder and Starfinder rules systems. Each episode is professionally produced, and has gathered a loyal following of listeners. Each play session utilizes Adventure Path scenarios previously published by Paizo. Here's Troy Lavallee, CEO of the Glass Cannon Network:
"Our whole enterprise began out of a love bordering on obsession for Pathfinder and the adventures that Paizo puts out. We are thrilled to be extending this partnership at an exciting time in the industry as tabletop RPGs continue to explode into the mainstream and technology allows people worldwide to take part in a shared gaming experience with us on an almost daily basis."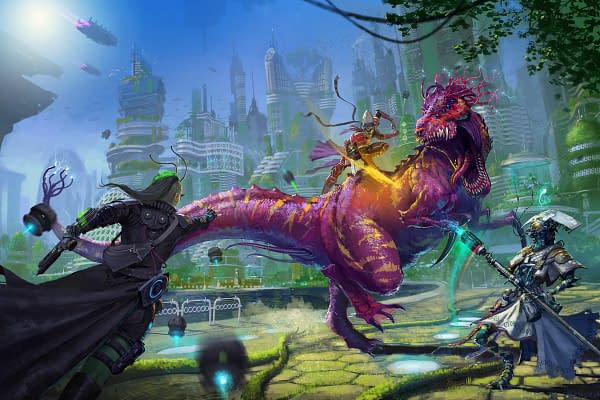 Paizo Inc. and the Glass Cannon Network have extended their partnership for another three years, ensuring plenty of exciting adventures set in the Pathfinder and Starfinder settings. According to Jim Butler, Paizo's Vice President of Marketing and Licensing, the future looks promising:
"We're excited to continue adventuring through GCP's imagination as they bring our 'Pathfinder' and 'Starfinder' Adventure Paths to life through their gifted storytelling. We look forward to working with Troy, Joe, Matthew, Skid, and Grant as they continue their foray into the 'Pathfinder' and 'Starfinder' universes."
Paizo Publishing began printing the Pathfinder rules system in 2008 after Dungeons and Dragons moved on from their 3.5 rules set. Paizo was able to utilize an open games license which allowed them to continue to use the old rules legally, and the rest is history.
More information on the Glass Cannon Network, including live performance dates, can be found at their site.