Paizo Inc, makers of the role-playing games Pathfinder and Starfinder, have announced a multitude of goodies for April of 2020. According to a press release from Paizo Inc found on TheGamingGang.com, the following is a list of releases in April for Starfinder:
Starfinder Adventure Path #27: Deceivers' Moon (The Threefold Conspiracy 3 of 6)

On their voyage through space back to the Pact Worlds, the heroes and their new Stewards allies begin to realize disturbing gaps in their recent memory, missing moments of lost time replaced with dreamlike impressions of imprisonment, surgery, and shadows. A Stewards base on a fiery moon of the gas giant Bretheda seems to offer respite from paranoia and pursuit, but unseen enemies lurk even in the heart of the system's most powerful institutions, and the web of alien conspiracy enshrouds all of the Pact Worlds!

"Deceivers' Moon" is a Starfinder Roleplaying Game adventure for four 5th-level characters. This adventure continues the Threefold Conspiracy Adventure Path, a six-part, monthly campaign in which the heroes unravel the machinations of insidious aliens who have infiltrated galactic society. This book also includes an article describing the insidious reptoids, a catalog of starships used by the Unseen, and a selection of new monsters, including cryptids from the Starfinder setting.

Each monthly full-color softcover Starfinder Adventure Path volume contains a new installment of a series of interconnected science-fantasy quests that together create a fully developed plot of sweeping scale and epic challenges. Each 64-page volume of the Starfinder Adventure Path also contains in-depth articles that detail and expand the Starfinder campaign setting and provide new rules, a host of exciting new monsters and alien races, a new planet to explore and starship to pilot, and more!

MSRP $22.99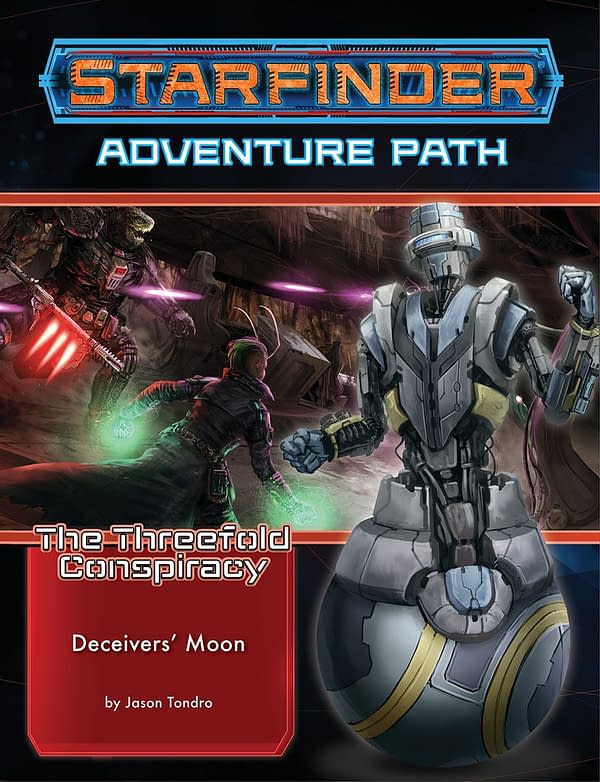 Starfinder Pawns: Attack of the Swarm! Pawn Collection

Key aliens and NPCs from the Attack of the Swarm! Adventure Path come alive on your tabletop with the Attack of the Swarm! Pawn Collection, featuring more than 100 creature pawns for use with the Starfinder Roleplaying Game or any tabletop science-fantasy RPG! Printed on sturdy cardstock, each pawn presents a beautiful full-color image of an alien, NPC, or starship from the Attack of the Swarm! campaign, including the devouring Swarm, brave soldiers, beneficent mystics, and dozens of unique creatures.

The Attack of the Swarm! Pawn Collection, together with the creatures and characters from the Starfinder Alien Archive Pawn Box and Starfinder Core Rulebook Pawn Collection, provides pawns for nearly every Attack of the Swarm! encounter. Each cardstock pawn slots into a size-appropriate plastic base from the Alien Archive Pawn Box, making the pawns easy to mix with traditional metal or plastic miniatures. With tons of distinct images, the Attack of the Swarm! Pawn Collection brings to life the enemies and allies from all six adventures of the Attack of the Swarm! Adventure Path.

MSRP $24.99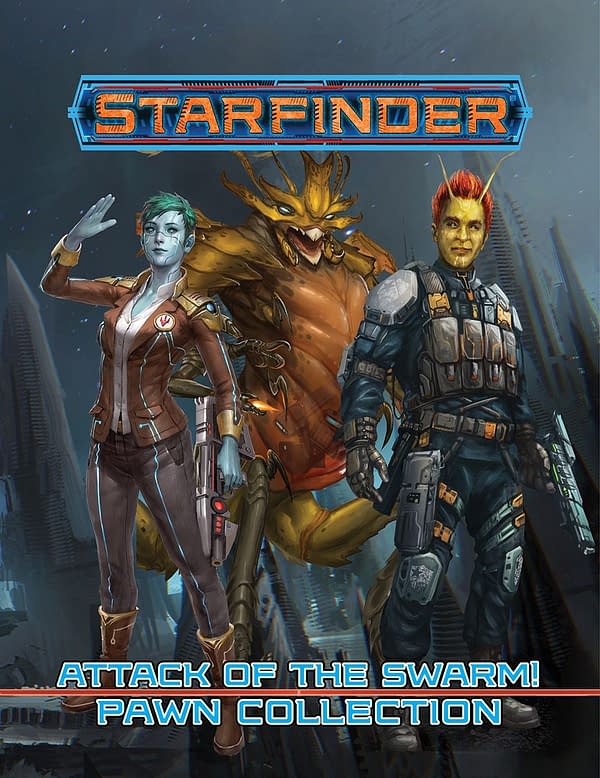 Enjoyed this article? Share it!