Pokémon TCG Japan: Scarlet Ex Preview: Gardevoir & Toxicroak Full Art
Pokémon TCG Japan's new set Scarlet ex doesn't just focus on new Paldean species but gives old favorites Gardevoir & Toxicroak the spotlight.
---
It's time for a new era. Pokémon TCG Japan has released two sets that kick off Generation Nine and bring Paldean Pokémon and Trainers to the Pokémon TCG for the first time. These two sister sets are Scarlet ex and Violet ex. These sets and as well as three 60-card Starter Set ex decks will be the basis of the English-language set Scarlet & Violet base coming out internationally on March 31, 2023. Starting with these sets, English-language versions of the sets will now more closely mirror Japanese expansions, using silver borders and set codes instead of set symbols. Scarlet ex and Violet ex also see the return of the original lowercase ex card type as well as the debut of the Terastal ex card type that will replace Vs and VMAX as Ultra Rares. We also now know that Illustrator Rares and Special Illustrator Rares, a card type that debuted in Crown Zenith, will return with this set, with ex cards being the mechanic we'll see depicted. Today, we take a look at pair of Full Arts from Scarlet ex.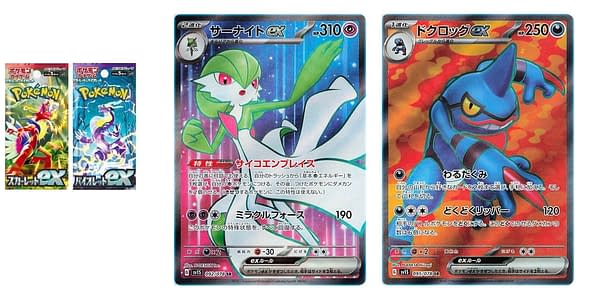 This is actually one of our more major Scarlet & Violet reports, as this is an update that will have an impact on the aesthetic of the next three years of Pokémon cards.
During the XY era, Full Arts used gold line art.
During the Sun & Moon era, Full Arts used blue line art for regular Pokémon and red line art for Ultra Beasts.
During the Sword & Shield era, Full Arts used silver line art.
Now… we see that the official Full Art line art color of the Scarlet & Violet era is green. I initially wondered if the line art color would be themed to the Pokémon when I first saw the green on Gardevoir, but nope — this is set-wide. We see it on all Full Art Pokémon from Scarlet ex (Gardevoir, Great Tusk, Koraidon, Toxicroak, Oinkolone) and Violet ex (Spidops, Magnezone, Miraidon, Banette, Iron Treads).
The only Full Arts that will break from this style are Full Art Tera Pokémon ex, which will use line art and a star pattern matching the Pokémon's Tera type.
Japanese sets often give us early ideas of what the English-language sets may include, so be sure to keep an eye on our coverage. You can stay tuned for previews of VSTAR Universe cards as well as updates on everything Pokémon TCG right here at Bleeding Cool.