Pokémon TCG Time Gazer & Space Juggler Preview: Luxray
The next two Pokémon TCG coming to Japan have been revealed. Time Gazer and Space Juggler will be released at the same time. They focus on the Origin Formes of Sinnoh Legendaries Palkia and Dialga which were revealed in the Nintendo Switch game Pokémon Legends: Arceus. Time Gazer and Space Juggler will continue to VSTAR mechanic introduced this year and is likely to feature Rainbow Rares, Gold VSTARs, and more. These two sets, along with the February 2022 special expansion Battle Region, are likely to be the basis of the next English-language set, Sword & Shield – Astral Radiance, coming in May 2022. Today, we have a peek at perhaps one of the most unique Pokémon-V we've seen.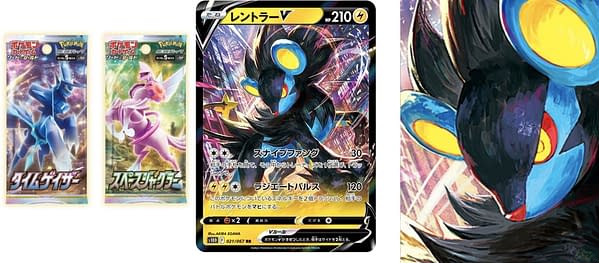 It's Luxray, which is cool in and of itself, but let's pause for a moment and look at the artwork by AKIRA EGAWA. I invite you right now to look up any other standard Pokémon-V and compare it stylistically. This is a major departure. Standard Vs tend to get a computer-generated art style. Even when they don't, like the terrific Machamp V in this set, they are sleek and very much in line with what you'd expect to see on this card type. Even standouts like the Mew from Sword & Shield – Fusion Strike and the Eeveelutions from Sword & Shield – Evolving Skies fall into this category. This Luxray's sort of sketchy, colored pencil style and the hyper-detailed background doesn't look like a standard V at all. It actually looks like an Alt Art. Hell, it looks so much like an Alt Art that I wonder if it was drawn as one and later was relegated to being a standard V because this right here? It's utterly unique considering the rest of this card type's features.
Japanese sets often give us early ideas of what the English-language sets may include, so be sure to keep an eye on our coverage. You can stay tuned for previews of Time Gazer and Space Juggler cards as well as updates on everything Pokémon TCG right here at Bleeding Cool.