Posted in: Card Games, Games, Pokémon TCG, Tabletop | Tagged: pokemon, pokemon cards, Souchirou Gunjima, The Pokémon Company International
---
Pokémon Trading Card Game Artist Spotlight: Souchirou Gunjima
Artist Souchirou Gunjima debuted in the special Shiny-themed set, Shining Fates and has been a major Pokémon TCG contributor ever since.
---
Throughout the years, the Pokémon Trading Card Game has featured a variety of incredible art styles. Now that the hobby has been around for more than a quarter of a century, we have seen the artwork of Pokémon TCG cards elevated by daring new artist choices as well as illustrators who have been veteran contributors since the very first releases. Let's take a journey through the eye-popping, mind-expanding history of Pokémon TCG artwork by exploring some of the hobby's most interesting and unique artists. Today, we will spotlight Souchirou Gunjima.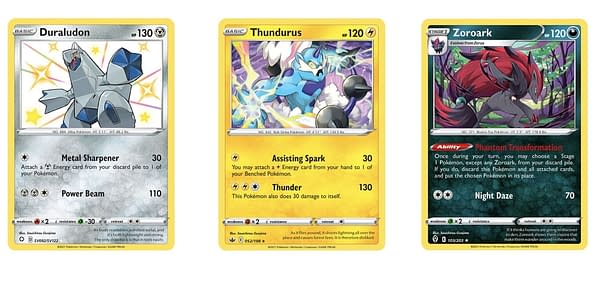 Souchirou Gunjima debuted in the special Shiny Pokémon-themed set, Shining Fates. This was released at the height of the scalping crisis. In this set, Gunjima contributed three cards: Shiny Duraludon, Indeedee, and Yanmega. Gunjima continued to contribute standard commons, uncommons, and rares all through their debut year of 2021. This included cards like Thundurus from Sword & Shield – Chilling Reign and Zoroark from Sword & Shield – Evolving Skies. It wasn't until 2022, as we entered the final year of Sword & Shield, that Gunjima broke out from these standard cards and began showing how they'd handle special hits.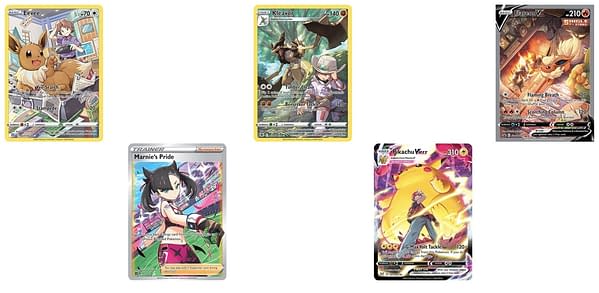 Souchirou Gunjima kicked into high gear with 2022's Sword & Shield – Brilliant Stars, delivering three major cards in the set: Eevee Character Rare, Marnie's Pride Full Art, and Single Strike Style Mustard Full Art. This newfound focus on rarer cards with less border restriction continued with Kleavor Character Rare in Sword & Shield – Astral Radiance, Pikachu VMAX Character Super Rare from Sword & Shield – Lost Origin, and the Flareon V Alternate Art, which was used as a SWSH Black Star Promo.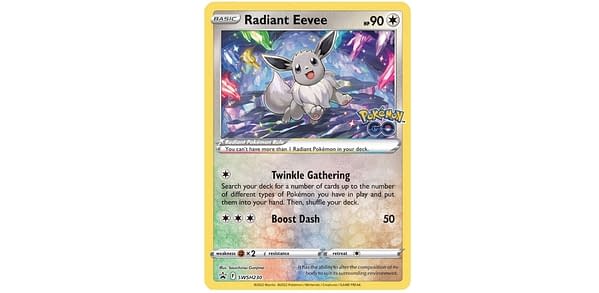 Speaking of promos, Gunjima's Radiant Eevee will, to me, be remembered as one of the most beautiful cards of this era.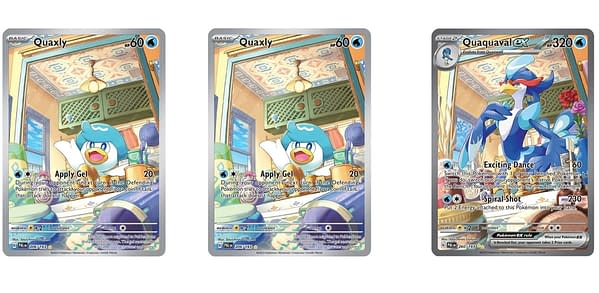 Now, as we have moved into the Scarlet & Violet era, Souchirou Gunjima continues to be a prominent contributor, delivering sought-after chase cards like the Quaxly Illustration Rare line from Scarlet & Violet – Paldea Evolved and ushering new Paldean species into the hobby with their first Pokémon TCG appearances.
Be sure to check Bleeding Cool every day to follow our in-depth Pokémon TCG coverage as we explore the hobby's past, present, and even future with upcoming set reveals.
---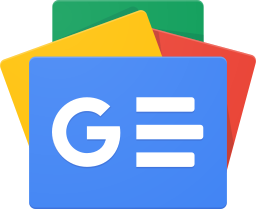 Stay up-to-date and support the site by following Bleeding Cool on Google News today!