Poland-Based Studio Covenant Announces Their First Game Gord
A brand new Poland-based indie studio called Covenant has announced their first official game will be called Gord. The team behind the studio is made up of former developers from CD Projekt Red and 11 Bit Studios who have taken their combined knowledge and turned it toward making this new fantasy adventure-strategy title. The grim fantasy world for the story has been inspired by Slavic folklore, as the team has made a unique blend of survival, quest, and city-builder mechanics into a single title. The game is still being developed, but if the images we see from the trailer below are any indication, this is going to give a lot of titles a run for their money when it's released for PC sometime in 2022. For now, enjoy the trailer and the notes about the game from the team here.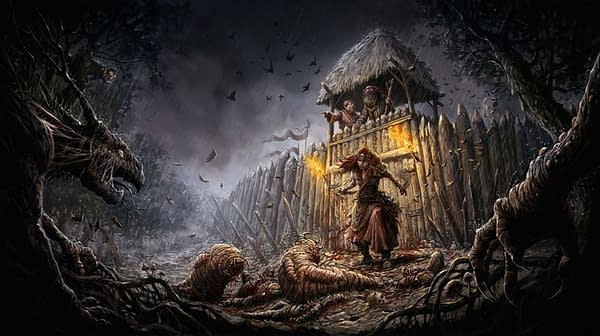 Adventure strategy in a dark fantasy setting – Lead the people of the Tribe of the Dawn as they venture deep into forbidden lands and ensure the survival of your populace in a grim fantasy world inspired by Slavic folklore.
A unique city-builder with survival elements – Grow your gord from a humble settlement to a formidable fortress while your population is constantly at risk from enemy tribes, gruesome monsters, and mysterious powers that lurk in the surrounding woods.
AI-driven quest system to ensure lots of variety – Side quests and random encounters will send you off into the wilderness to hunt down legendary creatures, uncover secrets about the Ancients, or vanquish a nasty scourge.
Custom scenarios with procedural level generation – Choose from a variety of primary objectives, select the level size, the intensity of raids, the environment you'll play in, the types of enemies you'll face, starting resources, and even the severity of the weather.
Impactful Sanity and Burden systems – Every aspect of your settlers' lives – from illness and hunger to the death of their kin – can impact your villagers' psychological state.
Unleash powerful Incantations – Spells vary in nature – some are offensive while others are defensive – but they all help to tip the battlefield in your favor.
Uncover the world's mysteries in The Chronicle – Pages torn from The Chronicle will be scattered throughout the game's landscapes, giving dedicated players an additional challenge of discovering lore that explains the Gord universe.