PSVR Title Ghost Giant will Launch Sometime this Spring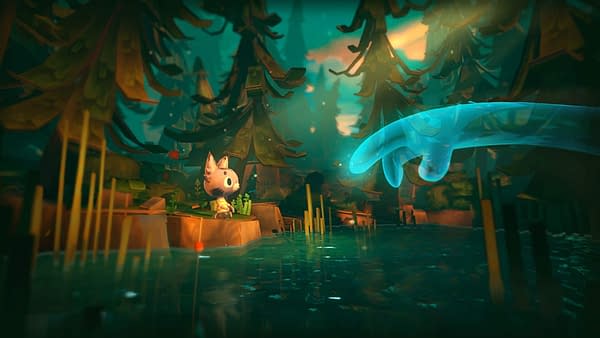 Zoink Games and Perp Games revealed their PSVR title Ghost Giant at E3 this past year and it's now time for the game to launch. Ghost Giant will hit the physical and digital shelves this spring.
Developed by the same minds that gave us Stick it to the Man, Fe, and Flipping Death, Ghost Giant is a puzzle adventure that sees a lonely boy named Louis befriend a giant ghost visible only to him. Players take control of the titular Ghost Giant and have to carefully build trust with Louis in order to get him around the various obstacles in his path. The game's primary story focus is entirely on the slow-building trust between the player and Louis. The game was written in collaboration with Swedish writer Sara Bergmark Elfgren, whose work has been translated into 25 different languages. She's best known for her Engelsfors Trilogy.
Players explore the world of Sancourt, helping the citizens solve day to day problems by utilizing their superior size and strength since the player does control a giant, after all.
To coincide with the release window announcement, Olov Redmalm, Art and Creative Director at Zoink Games offered the following statement:
Warmly welcome to Sancourt! I'm absolutely thrilled that we're getting a physical release of Ghost Giant by Perp Games. With their line of great VR game releases, we feel right at home. The team at Zoink Games hopes that through Ghost Giant you will experience something quite unique in both VR and storytelling! We're very proud of the game and it handles a topic we're all really passionate about. So buckle up, ready your handkerchiefs (just in case things get emotional) and prepare to become the Ghost Giant.
A release date will be announced for Ghost Giant closer to launch. You can check out the announcement trailer below.