Raw Fury has Acquired the Kingdom Series from Noio
Indie games publisher Raw Fury has purchased the IP rights to the Kingdom series from its original creator, Thomas van den Berg and his company Noio. The purchase price of Kingdom was not disclosed.
Kingdom was the first game signed by Raw Fury back in 2015. Since then, the game series has sold over 4 million copies to date across all platforms. Raw Fury has purchased the IP as Van den Berg has decided to move away from the Kingdom series in order to work on new projects. As Raw Fury's agreements do not give them any rights to a developer's IP, to keep the best-selling series around, they've had to purchase those rights from Noio.
Which means, Noio gets to move on and create new games, but fans of Kingdom don't need to say goodbye to the franchise as it will continue under Raw Fury's direct purview.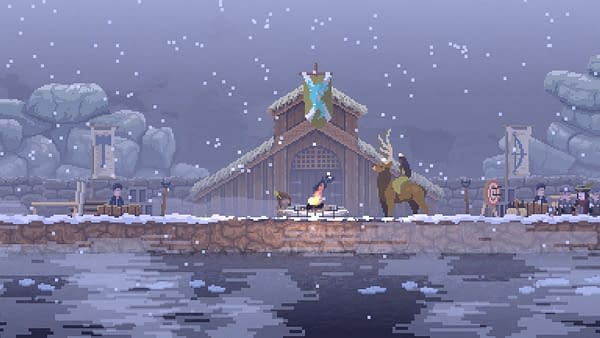 Thomas van den Berg offered the following comment, "The first pixels of Kingdom I put on digital paper around 2011, it's been a long and interesting time working on something so dear to me. But now, I'd like to continue challenging myself and explore different kinds of projects. And whereas most Kingdoms don't last long, the Kingdom series deserves to go on. For that, it's great that Raw Fury has been so deeply involved in the game for so long, enabling them to take the series somewhere I never could. Two Crowns is evidence of that, it was thought out almost entirely by Gordon, with great success. I look forward to seeing what is next, and to become a Kingdom player myself."
Jonas Antonsson, Chief Everything Officer and founder of Raw Fury, said, "Kingdom means a lot to us both personally and as a company, it's one of the cornerstones of our success and a testament to how we do things here. We usually work with small teams that are highly creative and, at some point, they may want to explore new things. We always want to support this, and we try our utmost to find a good way to both move games and franchises forward while making sure the developers have the freedom to delve into these endeavors. We love seeing them come up with some new magic whether it's in collaboration with or independent from Raw Fury."
Gordon Van Dyke, co-founder of Raw Fury, has been involved with the Kingdom series since the start by helping with the design and balance of the inaugural title, and eventually taking on the role of Game Director and Designer of Kingdom Two Crowns developed together with Coatsink. Gordon will now take over control of the series.
Van Dyke offered, "Without sounding too cheesy, Kingdom changed my life. Thomas has become like a brother to me and to have him hand over Kingdom is one of the greatest honors of my career. Protecting the careful crafting and diligence of the series, like we did with Kingdom Two Crowns, is just the start of the journey on how we plan to progress with the series. I'm still very much in love with Kingdom and have so many ideas to explore and build upon."
The next update for Kingdom Two Crowns, called Challenge Islands, will debut in late summer. So the series is in good hands.
You can also check out a new trailer for Kingdom: New Lands below.