Recap: MTN DEW AMP GAME FUEL "Call Of Duty: Modern Warfare" Celebrity PRO-AM
A couple of weeks ago, we got an awesome opportunity to check out the Call Of Duty: Modern Warfare Celebrity PRO-AM, sponsored by Doritos and MTN DEW AMP GAME FUEL. The company flew me out to check out the event, which was broadcast live on YouTube and Twitch. The event saw six teams go head-to-head as we had pairings of Call Of Duty esports pros teamed with celebrities from TV, music, and sports. The six teams we had on board were Shroud and D'Angelo Russell, C3CZ and Vince Staples, Priestahh and Blake Anderson, Formal and T-Pain, Scrump and Karl-Anthony Towns, and finally Aydan and Ajiona Alexus. And because it's a celebrity event, there was $25k on the line to be donated to charity.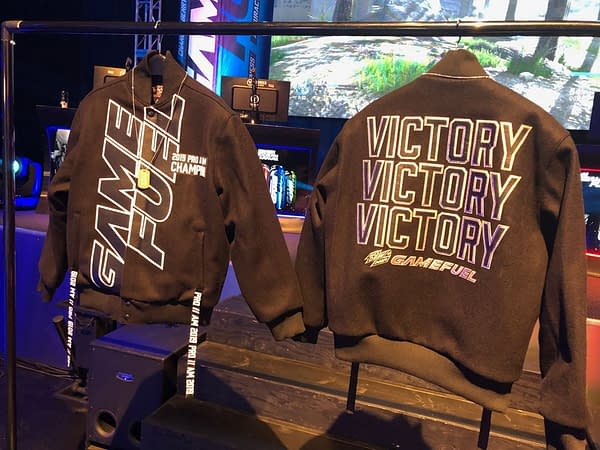 The event took place over at Thunder Studios in Long Beach, California, where they set up a mighty fine looking esports venue in the Thunder Gaming section. This place was great as you had the main set for everyone to play, a lounge off to the side where you could chill and drink, and stations set up for people to try out Modern Warfare while they were there. The competition had a few rounds to it as we started off with some 6-v-6 Domination matches for fun as the red side went up against the blue side. Both teams were doing pretty good early on, but then Scrump went into tryhard mode and basically carried the blue team to a victory, leading them with the most kills and even drawing the ire of Staples in the process. While Scrump did well with 52 kills, his teammate Towns did well on the celeb side being the leading scorer in that group with 20.
From there the teams moved into the competition phase of the matchups. Everyone moved into the new 2-v-2 rounds where they faced off to see who the better teams were. Basically, it all came down to eliminations and points as they were all fighting to see who moved onto the brackets for the semi-finals, while two other teams were sent packing early. Then coming down to the final two before they hit the big stage. You can watch the entire competition at the bottom if you'd like to see everything that happened, with the action being called by Goldenboy and Rich Campbell.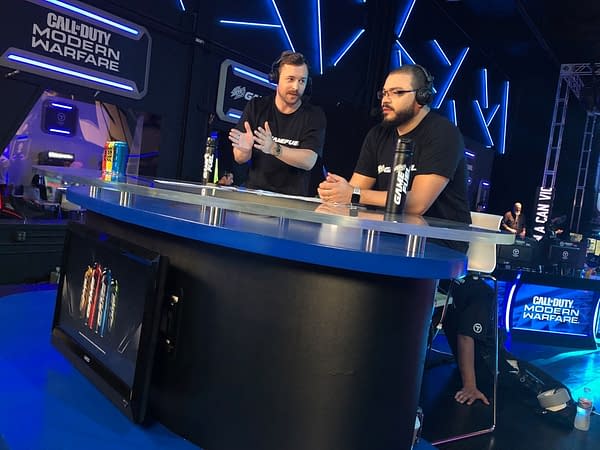 By far, the most entertaining part of the entire show was watching T-Pain and Towns trade insults and show off their personality. I don't know what was going on in the room, but nearing the end a few of the celebs were kind of done talking or getting into things. But not KAT and T-Pain. KAT was hustling players up and down the scoreboard and taking pride in his work. T-Pain (admittedly with more assists from Formal) was having a blast and talking trash. Even taking to drinking after every match, as you can see here. You can even watch some of the footage I recorded on Instagram of him in action.
At the end, those two teams faced off against each other as Formal and T-Pain took on Scrump and Karl-Anthony Towns. I won't spoil any of the highlights for you, as they're just too good for words. But in the end, KAT and Scrump swept the 3-0 for the win, the jackets, the dog tags, the charity donation, and the bragging rights. Congrats to both men, and a big thank you to MTN DEW AMP GAME FUEL and Doritos for bringing us out to watch the event and cover it, as well as sponsoring it. I think they got a good thing going here if they decided to do this on a monthly basis with new celebs and pro players each time. But hey, I'm all down for seeing esports grow in any way it can. Enjoy watching the games below.