 Fans may have famously voted for this character's death the first time around, but that hasn't ever stopped Jason Todd from doing what he does best and unlike with Arkham Knight we actually get to see him in action as Red Hood. Sure, there was that Arkham Knight side episode featuring the Hood, but let's be honest, that was nowhere near enough. And now we know just what he'll look like in Injustice 2. Red Hood will be the first character in Fighter Pack #1 to be released and will be available in June for players who have purchased the Injustice 2 Ultimate Edition, Injustice 2 Digital Deluxe Edition, or Injustice 2 Ultimate Pack.  The character is also available for purchase a la carte.
The trailer's description reads:
Jason Todd once served as Batman's second protégé "Robin" before being brutally murdered by The Joker. Years later, the powerful healing waters of the Lazarus Pit brought Jason Todd back to life. However the power of the pit comes at a cost, and a change takes hold in Jason. He now uses mantle of the Red Hood to wage a lethal war on crime.
Which, sure. That's technically accurate. But it doesn't quite do Jaybird justice. And yes, his new "hood" is goddamn stupid looking, but I'm willing to give it the chance to grow on me. Because it could be worse. It could be so much worse. You know the one I'm talking about. From Grant Morrison's Revenge of the Red Hood. Whatever you call this majestic sartorial choice: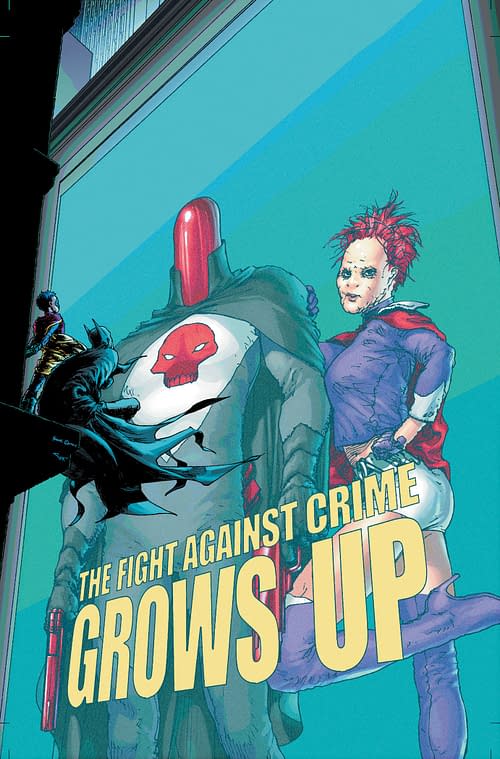 So while the Injustice 2 costume may not feature Jason Todd's most impressive helmet choice, the rest of his costume is pretty much perfect and his gameplay is pretty damn solid. I mean really, throwing your gun at an enemy? Yeah. I'm sold. So, good show guys. A+ effort.
You can check out Red Hood in action below. Injustice 2 is already out for PC, PS4, and Xbox One. Red Hood will be here in June, so you won't be waiting for long.
Enjoyed this article? Share it!