Rumor: Fortnite Season 4 Might Start Next Week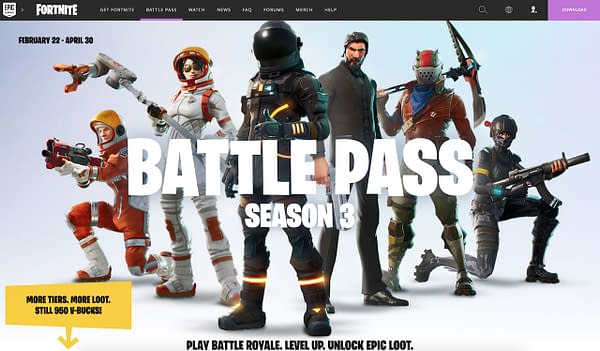 While Epic Games has not announced the start date for Fortnite Battle Royale Season 4, players are already placing bets that the new content season will launch next week. The theory is based on the above image, which is a screenshot of the Battle Pass landing page on the official Fortnite site. The pass gives the dates for Season 3 as February 22nd through April 30th, so many players are speculating that the new season might begin as soon as May 1st.
Other players, and even game outlet Eurogamer, are putting their bets behind a week break in between seasons to give players a chance to wrap up any final challenges for Season 3. We did see a short break between Seasons 2 and 3 for that reason, so it is likely we'll see something similar happen between Seasons 3 and 4. This means Season 4 might start on May 3rd instead, or possibly even later than that.
Now, all of this is speculation as Epic Games have not released an official launch for the new season, but it does seem likely that Season 4 will begin in early May.
Many fans suspect that Season 4 will see some major changes to the game map based on the appearance of a comet in the sky over Tilted Towers, which was later joined by a meteor shower on April 18th. The easy suspect here is some kind of alien theme, which is further supported by Season 3's cosmetic options. As you can see above, they included not one but three different space suits.