Death Stranding may have begun as an inscrutable adventure, but all is slowly becoming clear. Thanks to the latest promotional clip, "The Drop," we've got a simple picture of what it is we'll be doing in the game when it debuts this November.
The short clip reveals a variety of the obstacles Norman Reedus's character Sam Bridges will face as he makes his austere journey across a broken America. He'll be delivering packages, reconnecting cities by way of "Strands," and working to reunite the country. Each new stop needs to be connected to the "chiral network" to accomplish such.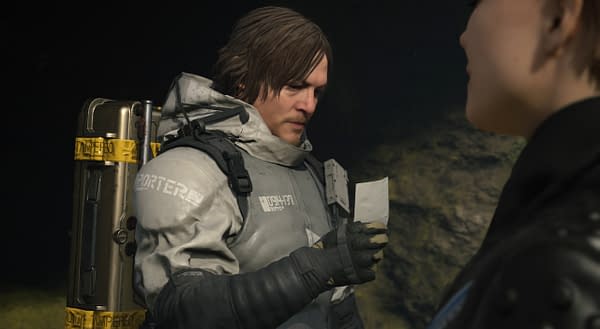 As Sam reminds us, Death Stranding's process "ain't as simple as it seems." It looks like a Herculean effort, honestly, with sprawling lands to explore. There are also enemies to face off against, of course, whether human or BT. The humans have electric batons, and the BTs are actual monsters. Regardless of what you're up against, you're not going to have an easy time of things.
But as "The Drop" shows us, it looks like it's going to be a wholly exciting adventure from start to finish.
"My name is Sam Porter Bridges," Sam concludes as the trailer reaches its end. "It's my job to reconnect us." It's the most succinct way of showing potential players a better picture of what the game is about, for sure. Now, we'll have to put all the information we've been given over the last few months together ahead of November.
Fans can pick up a special edition PlayStation 4 to commemorate the game. The system itself is white, with black "tar" handprints on the top of it. It will come with an amber yellow DualShock 4 controller meant to mimic the game's BB Pod.
Death Stranding will be dropping as a PlayStation 4 exclusive on November 8, a little over a month away.
Enjoyed this article? Share it!