Scuf Gaming Launches The Vantage 2 Controller For PC & PS4
This week, Scuf Gaming introduced their latest controller with the Vantage 2, being released for the PS4 and PC with a limited edition Modern Warfare version. The company released the details of the controller which feels like a slimmed-down and more-manageable version of the previous versions. We have the specs for you here along with quotes from the announcement, plus a video for you to check out at the bottom.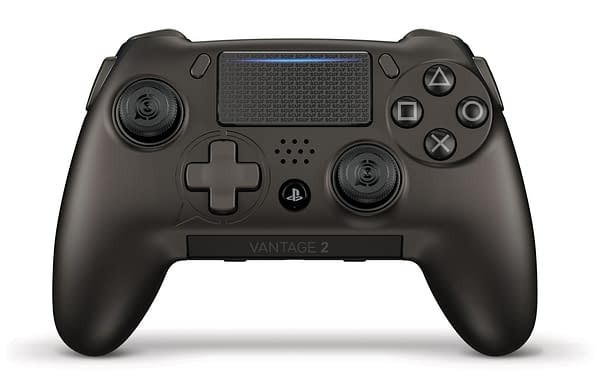 "Like every innovative company, we at Scuf Gaming are tirelessly working toward something greater," said Duncan Ironmonger, CEO Founder of Scuf Gaming. "The original Vantage was our most feature-rich and technologically advanced controller ever made. The Vantage 2 has been designed to finesse and improve upon our first release. We looked at every component, every feature, and most importantly, took feedback from our professional players and customers to advance and refine this controller."

"Nine years ago, we invented the SCUF to enable gamers to improve their gameplay on frenetic shooter games like Call of Duty, so this is a community we are both passionate and very engaged with," said Ironmonger. "We've equipped countless players with the high-performance controllers they need to win. Whether playing at home, in a professional tournament or elsewhere, SCUF has become the de-facto controller in the competitive community. This limited-edition controller marks another exciting chapter for both Scuf Gaming and the Call of Duty franchise."
The Vantage 2 comes equipped with additional newly enhanced features including:

Improved High-Performance Grip

Upgraded trigger functions

PC Customization App for Windows

Improved button haptics

Refined tactile textures in the faceplate, trigger, bumper, and Sax buttons

Enhanced USB connection system

The Vantage 2 delivers the same ergonomic shape and asymmetrical thumbstick configuration as the original. Vantage controllers significantly increase hand use and control with the addition of over 15 customizable functions, including:

The patented paddle control system

Hair triggers and adjustable trigger stops

Removable trigger extenders

Quick-access remapping switch

Removable faceplate and removable vibration modules

Advanced audio control

Customizable thumbsticks, D-pads, and more