Shadowman Remastered Game Unveiled on PC Gaming Show
The PC Gaming Show released a trailer for Shadowman Remastered, a new version of the game that originally came out in 1999. This new version features a significant graphics upgrade, as well as numerous enhancements. The new version of the game is produced by Nightdive Studios and will be on PC.
Shadowman Remastered is based on the Valiant comic book series Shadowman that began in 1992. It was initially created by Jim Shooter, Steve Englehart, and artist Mike Manley. The hero, Jack Boniface, is a supernatural fighter of demons who gets his powers from voodoo.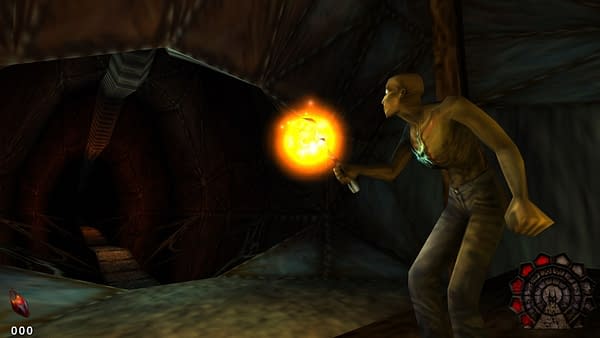 As the official game synopsis goes, "He is coming, stalking criminals in the spirit world and the real world. A possessed man is coming, a voodoo mask in his chest and lines of power in his back. Shadow Man is coming, trailing evil from Liveside to Deadside. To stop an apocalypse. To save your soul."
If memory serves, the game was an action-shooter, essentially a 3rd Person variation on Doom where you can see your player character as he runs around shooting at demons and supernatural creatures with various magical weapons. They all splatter satisfyingly. It's fast-paced and occasionally frenetic as Doom-style shooters are wont to be.
The gameplay will involve:
Stalk criminals across two worlds: Explore crime scenes in Louisiana, Swamplands, a New York tenement, a Texas prison, the asylum, and many other locales.
Send Evil back to darkness: Go in armed with high-caliber guns or soul-destroying voodoo powers.
Unravel the Mysteries of Deadside: Gather sinister voodoo artifacts in order to solve puzzles.
Live the Nightmare: Over 40 immersive cut-scenes and hours of in-game speech.
Updated PC Version will feature:
4k support
Updated gameplay and enhancements
Clustered-forward shading, dynamic shadow maps, general post-process effects (antialiasing, motion blur), ambient occlusion
Restored lost content
Tweaked/improved AI
The game will also come out on Xbox One, Playstation 4, and the Nintendo Switch.