Okay, things are starting to get out of control. Back in April, we told you about bag conglomerate Ziploc's new campaign to recognize teachers as "superheroes." Now, shoe company Clarks has gotten in on the action, attempting to make the case that children are actually superheroes, which somehow connects to a line of licensed sneakers themed after Marvel's Avengers, specifically: Captain America, Black Widow, Hulk, and Iron Man.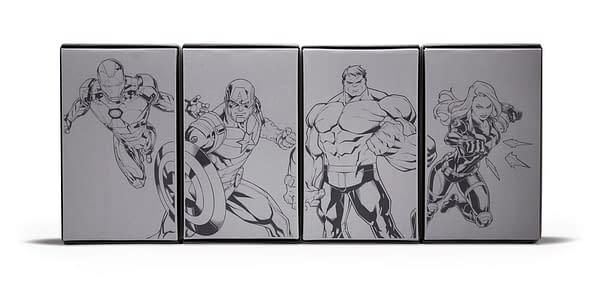 "Like every kid on the planet, the Avengers all have very different and distinct identities," a press release from the shoe magnates claims, making what anyone would be forced to admit is an extremely loose comparison. "When they join forces, their strengths combine, and they become Earth's mightiest team of heroes."
Wait, what? No they don't! For more on this, we sought the expert opinion world-renowned podiatrist and real person, Professor Thaddeus T. Puffinbottoms.
"When is the last time a child dressed up like a bat and patrolled the dark and seedy streets at night, protecting law-abiding citizens from a criminal menace?" Professor Puffinbottomas asked. "Never! That's the answer. Children aren't allowed to stay up past their bedtime."
According to Puffinbottoms, children are not superheroes at all.
"Just like teachers, children are not superheroes at all!" Puffinbottoms explained. "Children do not have superpowers, fight crime in skintight costumes and capes, or regularly save the universe from otherworldly threats."
"Stop trying to say everyone is a superhero," Puffinbottoms concluded. "Just cut it out."
Sadly, it looks like Clarks' Chief Brand Officer Jason Beckley has no intentions of stopping.
"Kids have the power to change the world," Beckley said. "They are the purest minds on the planet, and we – Clarks – are inspired by how they live their lives. In our view, they are all superheroes."
You can't just decide that!
"So, what better way to celebrate that than joining forces with Marvel. We follow science and data to support the tradition of putting growing feet in safe hands," the belligerent Beckley continued. "Combine that with collaborated passion, imagination and expertise, and you get an innovative footwear collection that provides kids with the freedom to be their true selves."
Clarks' campaign, called "Greater Together," will "strive to encourage kids to celebrate their strengths and abilities and to stand together as one; empowering them to be fearless, to believe in themselves, and always to support each other through strength in unity." Admittedly, that sounds like a nice goal, though it does sound a bit hyperbolic considering the prescribed method of achieving it: "providing kids with liberated movement through comfort for everyday adventures."
Sounds like they just want to sell some shoes to us. Here's a video:
Enjoyed this article? Share it!