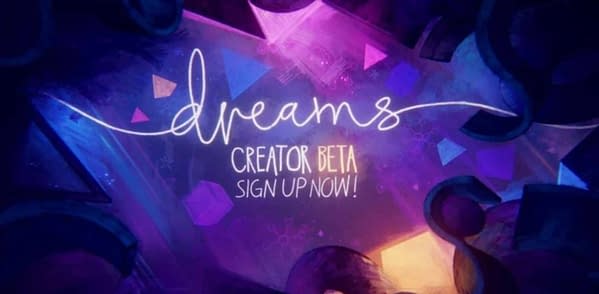 Media Molecule has opened the public beta sign-ups for Dreams, with its unique approach to VR gaming. Dreams includes a story mode, but the biggest draw to the game is its creator mode which allows players to design whattever they like using a series of creator tools.
The new beta is open to the public and will focus on the creator mode, so make sure you put your building hats on before logging in.
Sign ups are live for both the US and EU regions and run through PlayStation.
Our #DreamsPS4 Creator Closed Beta sign-ups are LIVE! To register, follow the link below that corresponds with your PlayStation Store region.

EU: https://t.co/n9khTgiTKK
US: https://t.co/ER4wlvAHBg pic.twitter.com/SYE0eE4nRv

— Media Molecule (@mediamolecule) January 4, 2019
The announcement was made during a live stream earlier today, which gave details on the beta, as well as a series of tips and tricks on how to play the game.
Per the official sign-up page, Media Molecule is looking for feedback from a wide variety of creators, so there's nothing to hold you back from creating whatever you want, whether that's a new game, a character, or a painting. Anything is possible in the "dreamverse," after all.
Media Mation has not given dates for the public beta, but at least you can sign up and get access once the beta goes live.
You can check out today's stream below.
Watch Tips, Tricks and Beta Creations | #DreamsPS4 from Media_Molecule on www.twitch.tv
Enjoyed this article? Share it!