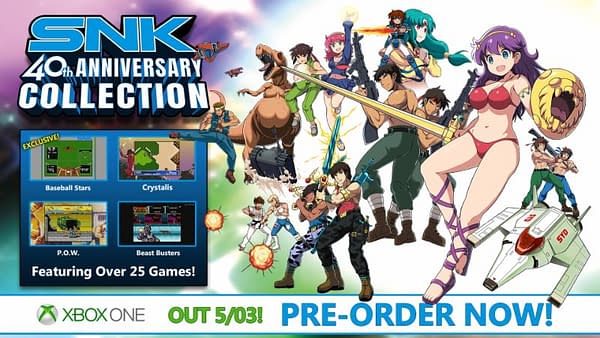 The SNK 40th Anniversary Collection is scheduled to launch on the Xbox One on Friday, May 3rd as a digital download only. Pre-orders for the game are open starting today on the Microsoft Store. The Xbox version of the 40th Anniversary Collection includes the fan-requested 4K-ready restoration of Baseball Stars for the first time ever.
The SNK 40th Anniversary Collection includes several classic titles from the SNK vault, including:
Alpha Mission
Athena
Crystalis
Ikari Warriors
Ikari Warriors II: Victory Road
Ikari Warriors III: The Rescue
Guerilla War
P.O.W.
Prehistoric Isle
Psycho Soldier
Street Smart
TNK III
Vanguard
Chopper I
Fantasy
Munch Mobile
Sasuke vs Commander
Time SOldiers
iBeast Busters
Bermuda Triangle
OZMA Wars
Paddle Mania
S.A.R.
World Wars
Baseball Stars
The 40th Anniversary Collection comes with both Arcade and Console versions of the games, so you can swap between the two and attempt a new personal best score. The games have all been given graphics updates so they run nicely in 4K, they also have redesigned control schemes to make them play a bit better on modern consoles. Additionally, the collection comes with the SNK Museum Mode which lets players explore the legacy of SNK through high definition artwork and never-before-seen promotional assets.
This collection has been prepared for Xbox One by Digital Eclipse, who have been making accurate video game re-releases since 1994. The SNK 40th Anniversary Edition is scheduled to be released for Xbox One on May 3 for an MSRP of $39.99 USD.
Enjoyed this article? Share it!