Splatoon 2 is Getting New Amiibo, as well as a Map, and Weapons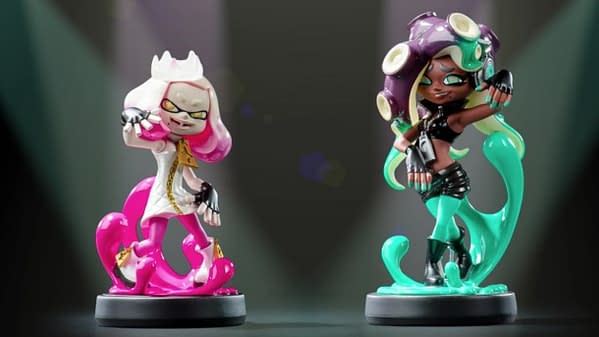 Nintendo recently announced that Splatfest hosts and pop duo Pearl and Marina will soon be available as amiibo. While no details have been given as to what their functions will be when activated in the game, the video description for their announcement trailer, we might have some clues. "First, you've got Pearl, the cute and sassy MC with a talent for spitting fire. Then you've got Marina, the dazzling DJ genius dropping beats on the wheels of steel. Fans love them for their unique futuristic sound, but they're also making quite the name for themselves as the broadcasters of Inkopolis News and Splatfest events!" So its possible we'll see Pear spitting fire and Marina utilizing her DJ equipment for some interesting battle effects.
Nintendo says the popstars-turmed-amiibo will be available to purchase later this year.
Both amiibos will be available only as a two-pack for $24.99 USD. You can watch a short teaser below.
Nintendo also mentioned that a new map is on the way, along with a new weapon set called Dark Tetra Dualies. The basketball-themed map is called Goby Arena, and you can view some pictures of it below in Nintendo's tweet.
As for the Dark Tetra Dualies, they allow you to shoot while rolling, and players can do four dodge rolls in a row when using them.
Splatoon2 is now available on the Nintendo Switch. The game has continued to see free updates of maps and weapons at a pretty reasonable rate since launch and it does not seem Nintendo will be slowing down that momentum anytime soon.