Super-Rare Tamamushi University Magikarp Pokémon Card On Auction

Of all the super-valuable collectibles, comics, and trading cards that Heritage Auctions has to offer, it is possible that many people might overlook such a card as Magikarp. However, all the same, Heritage Auctions has put a Tamamushi University Magikarp card from the Pokémon Trading Card Game onto auction. And believe us when we say that this particular Magikarp card is one of the most sought-after cards in the history of the game's run. This auction ends on July 9th at 2:50 PM Eastern Time, or 1:50 PM Central Time.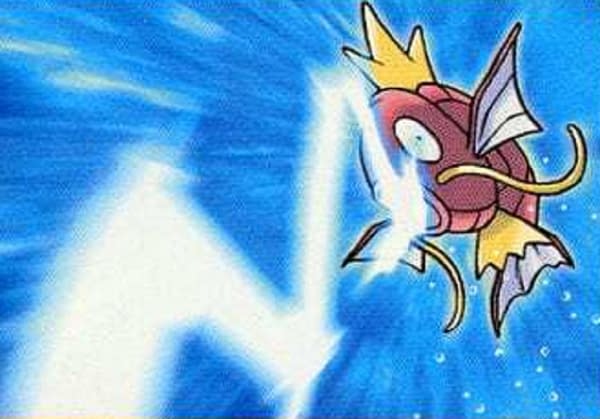 This rare Magikarp Pokémon card was given out to a prize in the Tamamushi University Hyper Test, so hence the colloquial name "Tamamushi University Magikarp." Part of a promotion by Shogakukan Magazine geared towards students in Japanese primary school; this Hyper Test has participants answer questions for the magazine. Those who passed the test were invited to a tournament in Osaka, Japan, where they could win one of these promotional Magikarp cards. One thousand of these Magikarp were meant to be given out, but not all one thousand were guaranteed to have been passed onto tournament participants. As of today, we do not know how many still exist intact, but the PSA has only graded 64 of them, with only 44 making a grade of Near-Mint 8 or higher.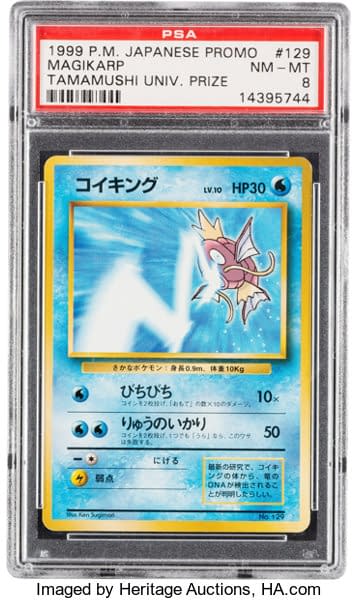 At first glance, this near-mint Magikarp promotional Pokémon card is nothing to shout about if you didn't know the history behind it. It's graded at an 8-grade, meaning it isn't quite Mint condition, but it's pretty close to it. However, of note is that this Magikarp card knows Dragon Rage, a move that Magikarp tends not to know at all. This card, with history on its side and a very powerful attack in the game, belies its condition and its Pokémon species and, at the time of writing, is on auction at $3,400.00 USD!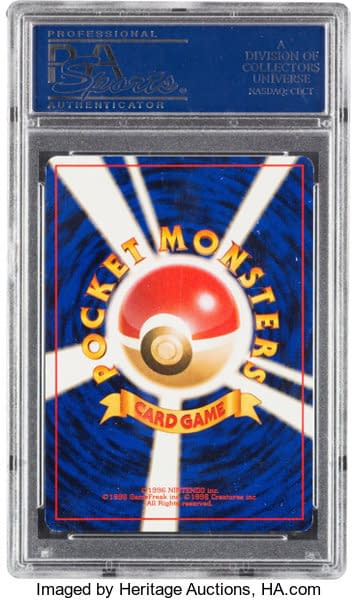 If you would like to peruse the auction listing or even bid on this treasure of a card, you may do so by clicking here. The auction is only going on until July 9th at 1:50 Central Time, though, so act fast! Good luck!