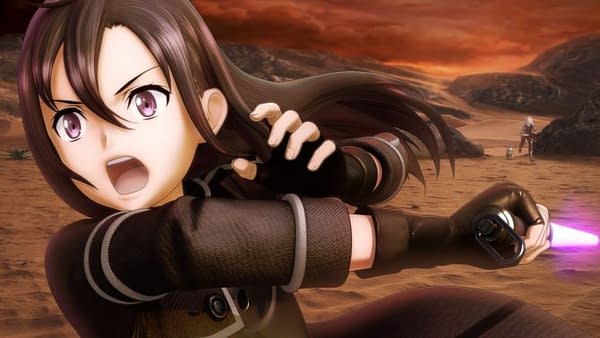 During the Dengeki Bunko Fall Festival 2017 currently being hosted in Akihabara, Tokyo, Producer Yosuke Futami introduced a new extended trailer for Sword Art Online: Fatal Bullet.
The trailer showcases the character creation that will allow players to create their own heroes, new characters Kureha and Zeliska, and the return of many characters from the series, including Death Gun. Because it just isn't Gun Gale Online without Death Gun.
https://youtu.be/VC4wRmmNjS0
The character creation moduel is actually pretty deep thanks to a series of sliders, and weapons will come in several kinds, designed to look as realistic as possible. We also get to see the new costumes for returning characters for their first appearance in Gun Gale Online. It's worth mentioning that both Kirito and Sinon will have new looks as well.
A second video includes gameplay featuring a custom character as the protagonist, rather than Kirito, which is kind of cool.
A third video showcases one of the most interesting aspects of the game, the character customization, the variety of characters we can create, and the many weapons they can use.
Event CGI is also coming as usual for Sword Art Online games, letting players appreciate the cast in various situations: this includes swimsuit events because everyone loves shameless fanservice.
On top of that, LLENN and Pitohui from the Sword Art Online Alternative Gun Gale Online manga will also appear in the game.
The game will include a season pass, which features three different DLC. A rather rich Collector's Edition will also be available in Japan, alongside a Premium Edition including the game and the season pass for 11,200 yen.
Interestingly, an event for the 5th anniversary of the Sword Art Online games will be hosted on February 17th, 2018, and we can expect to hear more about the future of the series then.
Sword Art Online: Fatal Bullet will be released in Japan on February 2nd. we still don't have a date for the west, but it'll come in early 2018 for PS4, Xbox One and PC.
Enjoyed this article? Share it!