Take A Look At The Updated Nemesis System In Shadow Of War Warner Bros. Interactive Entertainment has given us a gameplay walkthrough video for their sequel to Shadow of Mordor today. First impressions of Shadow of War are overwhelmingly positive. Seriously, I want to play this game immediately.
According to the press release accompanying the video, the trailer "introduces viewers to the next generation of the innovative Nemesis System with the addition of Nemesis Fortresses, where players must utilize different strategies to conquer dynamic strongholds and forge their personalized Orc army. In this video, Talion and Celebrimbor, who return as the Bright Lord, must lead a fortress assault on the mountain valley of Seregost and take it from one of Sauron's Overlords. To succeed, they will use the power of the New Ring to recruit Followers during enemy encounters—a new mechanic allowing gamers to establish entirely new stories of loyalty, betrayal and revenge. This Gameplay Walkthrough is just one of the millions of possibilities that players will experience in Middle-earth: Shadow of War."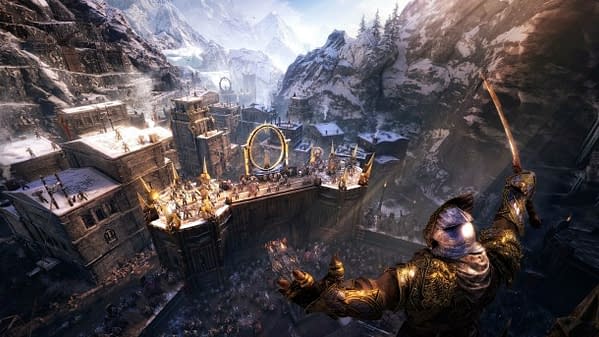 When we first heard about the sequel to Shadow of Mordor, I can admit I was rather tentatively hopeful. I'm usually on the side of "expect disappointment" because I hate getting surprised by things being horrible. I'm just a natural pessimist.
That said, I'm freely willing to eat my words and said that this looks freaking awesome. Sure, I've seen better looking games, but whatever. This just looks damn fun. Having increased complexity in the nemesis system just seems like it'll work nicely. Lord of the Rings is a rather complex IP to be working with, and I can't imagine anyone being upset that Shadow of War has some extra dimension to it. There are extra custom options for your army, more gear, mounts, and lore surprises? Go ahead and take my money, damn it.
Don't believe me? That's fine. Clear your schedule for the next fifteen minutes and check it out below.