The 32-Player Rush Mode has Returned to Battlefield V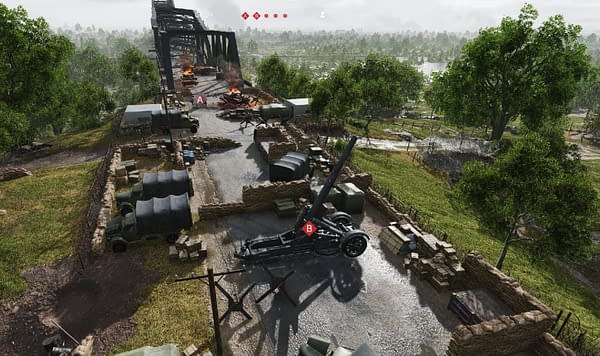 The 32-player Rush Mode has returned and is now live in EA and DICE's Battlefield V. The Rush mode was first seen in Battlefield: Bad Company, and the version brought to Battlefield V returns the mode to the traditional 32-player format. This version of Rush is playable on the Twisted Steel, Narvik, and Devastation maps. It is available from today, March 7th, through March 20th, 2019.
The return of Rush is part of the Unstoppable Force event for Chapter 2: Lightning Strikes.
As for how Rush works in Battlefield V, the official mode description (as well as some map-specific strategies) are available on the Battlefield blog:
A 16 versus 16 experience, soldiers will enter the match on the attacking or defending team and must fight to control sectors by either bombing or disarming objectives. Attackers must plant explosives on two objectives in the sector before running out their limited number of respawn tickets. Defenders need to hold the line and try to stomp the offensive or be forced to retreat.

Like Battlefield V's Breakthrough mode, the maps are divided into sectors, but are contested over artillery guns or communication stations, not Flags.

Pushing together is key to victory as a Rush attacker, because you're no good to your team if you trickle in alone or hang back in the distance. Explore different strategies to reach objectives, break down defenses, or blitz through choke points – together.

Defenders can dig in their heels with the help of pre-built and buildable Fortifications. These have been customized to tailor the Rush experience on each map to help defenders keep objectives guarded against the onslaught of attackers.

Rush is played sector to sector, and players will have to devise fresh tactics across three maps.