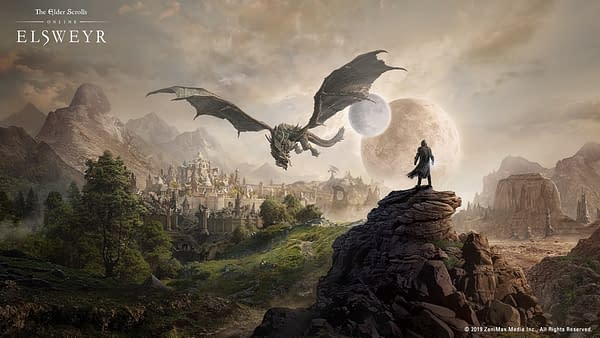 The next expansion for The Elder Scrolls Online was revealed yesterday in a Twitch stream, which is bringing dragons back to Tamriel. Which is fitting, considering the name of the stream was The Season of the Dragon.
However, the expansion is based in the home of the Khajiit, Elsweyr, so we'll definitely be getting more than some flying death lizards. Although, Elder Scrolls dragons are pretty darn awesome, as far as flying death lizards go.
What we know so far about the expansion can be summed up with this hypetastic description from Bethesda themselves:
Once thought lost to the mists of time, fearsome Dragons now soar the skies of Elsweyr, leaving scorched ruin in their wake. In The Elder Scrolls Online: Elsweyr, you must discover the dark purpose behind their rampage in a new epic story and prevent the destruction of the Khajiiti homeland.

Take heart, for these scaled monstrosities are not invincible, and with the right planning, tactics, and tools they can be brought to the ground and even killed. Coordination and skill are key to overcoming the Dragons, but if you succeed, you'll reap rewards not found anywhere else in Nirn. Beware the skies, walker!
Alongside the new expansion campaign, we're also getting a new playable class: the Necromancer. The Necromancer class is designed to bring a new kind of tactical play to ESO, allowing the player to summon the undead and make use of corpses to overwhelm enemies and empower your own attacks. There are three distinct skill lines for the Necromancer:
Reaper – Imbue the dead with frost, fire, and lightning to bring ruin upon your enemies. Raise relentless hordes of the undead and allow your fallen enemies to intensify your unyielding assault.
Bone Tyrant – Bend and break the dead to your will and use their remains to create impenetrable barriers and extend your own life. Control the battlefield with the bones of the departed.
Living Death – Draw from the power of life and death to replenish and restore your allies. Resurrect your defeated comrades and keep them in the fight.
You can find more information on the Elsweyr expansion here. The Elder Scrolls Online: Elsweyr is set to release on June 4th, 2019.
You can check out the announcement trailer below.
You can also watch the full reveal stream if you've got the time. It's about 2 and a half hours, so maybe set aside a good chunk of time to view it, or just listen to it while you work. Either way, the full stream is worth checking out.
Watch The Elder Scrolls Online – Season of the Dragon Reveal. Watch live from Twitch HQ @ 2PM PT from Bethesda on www.twitch.tv
Enjoyed this article? Share it!