The ESA Adds Six New Member Companies to the Mix in 2019
This morning, the Entertainment Software Association announced six new members have been added to their ranks, all familiar names in the industry. Those six companies are Intellivision Entertainment, Natsume Inc., Riot Games, SEGA of America, THQ Nordic, and Wizards of the Coast. All six will have the same rights and privileges as others currently do who sit on the ESA, as they all work together to help make the gaming industry better in certain areas like First Amendment rights, intellectual property protection, and international trade. Here's a quote from this morning's press release.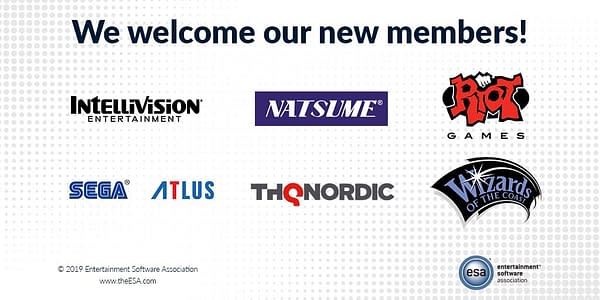 "We are stronger as an industry when the most innovative video game companies come together to champion the positive impact of video games before policymakers around the country," said acting ESA President and CEO Stanley Pierre-Louis. "We look forward to working with our expanding membership to leverage their support of a unified industry that shares ideas, engages with policymakers, and nurtures the next generation of creators."
It is kind of cool to see Wizards of the Coast in the mix as one of the few who focus more on tabletop and RPG gaming than video games, not to mention a surprise to see that SEGA wasn't already on the board. No word if any more companies will be added in 2019, but that's a strong list of additions if there are none.