Netmarble's next-generation mobile fishing game Fishing Strike recieved a large update today that introduces an all-new fishing zone, new characters, and in-game fishing equipment for Fish Hunters to experience, collect, and meet.
The Dark Volcano fishing zone boasts nine stages of fishing sites inspired by actual volcano mountains. These real-world inspirations include Mount Pinatubo in The Philippines, Krakatoa in Indonesia, Mount Etna in Italy, and Mauna Kea in Hawaii.
Players can also look forward to 90 new types of fish from level 61~143, and the maximum level for Fishing Strike'sNo Limit Challenge is now extended from 108 to 126.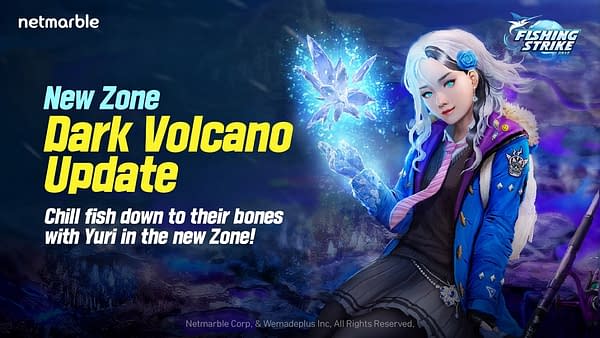 Additinally, the new Legendary Angler 'Yuri,' is also available for Fish Hunters to partner with. 'Yuri' has a powerful freezing skill that is activated through magic. New fishing equipment, including the Golden Phoenix Set, Pink Dia Phoenix Set and the new Blaze Phoenix Boat was also added for players to collect in today's update.
If you enjoy fishing and mobile games, but you haven't checked out Fishing Strike yet, the official game description reads:
Fishing Strike offers a unique and hyper-realistic mobile fishing experience as players travel the globe and cast their lines in the hopes of collecting the best fish in the world. Fishing Strike is currently available worldwide and offers over 700 species of fish for players to catch, over 30 anglers to choose from, and nine different regions for Fish Hunters to explore.
Fishing Strike is available on iOS and Android
Enjoyed this article? Share it!