The Persona Dancing Games are Getting Yakuza, Sonic, and Virtua Fighter Costumes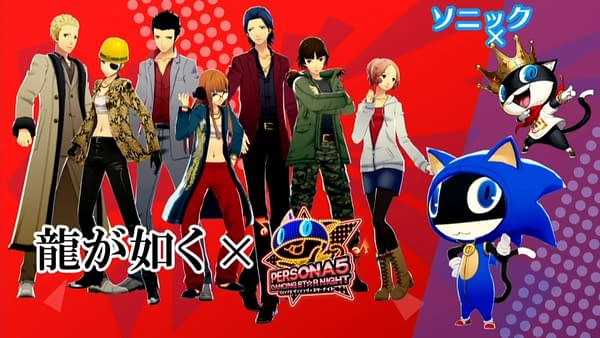 During this weekend's Sega FES, the company announced that both Persona 3: Dancing Moon Night and Persona 5: Dancing Star Night will come with Virtua Fighter, Yakuza, and Sonic the Hedgehog-themed costumes. Persona 3: Dancing Moon Night will get the Virtua Fighter costumes, while Persona 5: Dancing Star Night gets the Yakuza costumes. And Morgana up there gets to be Sonic, because who else would he be?
The costumes mark another attempt to tie the various Sega and Atlus franchises together, and that is never going to be a bad thing. Plus, the costumes are pretty darn cute.
The costumes will be downloadable content for their respective games, meaning they will be paid content, though no details about a release date or pice were given. Additionally, no word was given about whether the costumes would make it to the West, it seems extremely likely based on Sega's latest decisions and the slowly closing gap between the Western and Japanese game markets in general.
While details on the costumes were slim, fans at the event were given a chance to see them in action in-game. You can find them at 3:38:23 in the video below which covers all of the many, many announcements made during Day 2 of Sega FES this weekend.
https://youtu.be/h2627efAsUA