There's Never a Break in Overkill's The Walking Dead
The one thing we can't say about Overkill's The Walking Dead demo from E3 is that we were ever bored or were able to take a breather. Overkill Studios, Starbreeze Studios, and 505 games have what I would call one of the most nerve-wracking experiences in a demo that I've experienced in a while.
The game has you and three others pick different characters and throws you into the middle of a nameless American city trying to survive in Robert Kirkman's world that he created in The Walking Dead. Aside from gathering supplies, you have two main groups you need to survive: the zombies and other humans who don't want you around.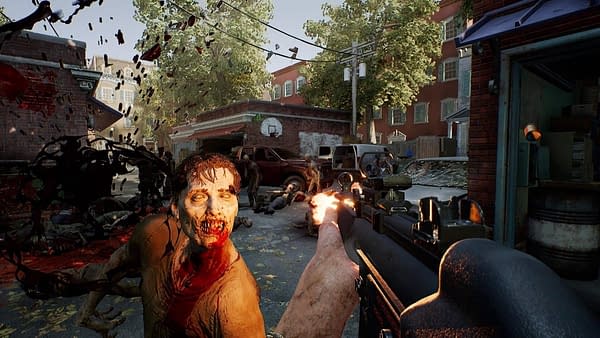 Every minute of playing this put me off kilter, as we were either solving a puzzle under the gun (like finding parts for a generator or something to pick a lock), clearing homes for supplies and often running into zombies in the process, or trying to take what we felt was ours from other people who wanted us dead. We nearly died a dozen times over before finally being mauled by a horde of zombies near the end of the demo.
Overkill's The Walking Dead is definitely a game you'll need to check out when it's released this fall, and it will probably be one of those games you end up seeing on Twitch and YouTube a lot as players will team up to make their way through the game.