This Half-Life: Alyx PT Mod Will Scare The Life Out Of You
What's scarier than playing through P.T. on PlayStation 4? Playing it in virtual reality. Of course, that game doesn't actually exist. What does, however, is a mod that turns Half-Life: Alyx into P.T. A talented modder named AmbientDruth brought this terrifying prospect to life via the Steam Workshop, and you can download it for free right now if you own Half-Life: Alyx.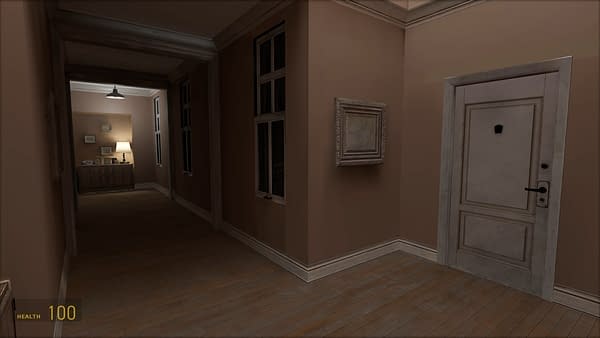 It's a massive reworking of the game into P.T., with a looping corridor that turns into the red-shaded area in P.T. You get Lisa's spine-tingling audio (though no Lisa), and some other creepy Easter eggs from the teaser itself. Of course, this is just a fledgling version of the mod that the creator AmbientDruth wants to eventually complete. They've confirmed that they want to add new event triggers, longer hallways, improved textures, and punishments for failing. The way it's created right now allows you to feel as if there's a lot more space than there actually is, and it's all achieved with teleports, weirdly enough.
Believe it or not, this is AmbientDruth's first Half-Life: Alyx mod, though they've had experience with Garry's Mod in the past. What's interesting about this particular mod is that you get to interact with items in the demo more fluidly than you would the original P.T. All it really serves to do, however, is remind us that Silent Hills isn't coming. But hey, at least we get all kinds of fun mods and creations from fans missing the teaser and what it was going to mean for the horror genre. With how creative fans can get, it may be that someone goes ahead and finishes the entire game for us in VR, which may end up being one of the coolest projects anyone's ever done. We'll have to keep an eye out for that.