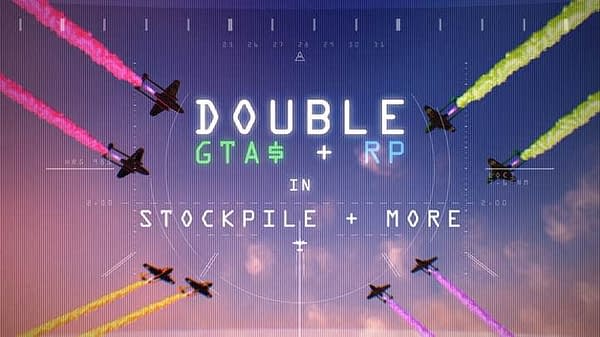 It's Flight Week in Grand Theft Auto Online which means the weekly Double GTA$ and RP bonuses from today through March 13th are all focused on aircraft. The modes buffed this week are Stockpile, Top Fun, Air Force Zero, and G-Rating. Sales for the week include aircraft hangers and aerial vehicles like the B-11 Strikeforce and the Mammoth Hydra.
Additionally, GTA Online players will receive Double GTA$ on all Smuggler's Cargo Sales.
Lastly, this week's bonuses include a pair of rare in-game t-shirts from the Blue & Red Class of '98 t-shirts, which players can pick up just by logging into GTA Online before reset on March 13th.
This week's list of in-game discounted items is:
Hangars – 50% off
Hangar Renovations – 50% off
Hangar Workshop – 50% off
B-11 Strikeforce – 40% off
Blimp – 40% off
P-996 Lazer – 40% off
Mammoth Hydra – 40% off
RM-10 Bombushka – 40% off
Rockstar has also added a 2-Step Verification process for Grand Theft Auto Online Social Club accounts to add an extra layer of security to your online account. Like most other 2-step verification processes, the GTA Online version will require your username or email, password, and a verification code generated by an authenticator and sent to your phone, tablet, or browser.
However, using 2-Step verification on your Social Club account will get you some bonuses like:
GTA$500,000 in your GTA Online account
10 Gold Bars in your Red Dead Online Beta account
Additional future benefits in both GTA Online and the Red Dead Online Beta
You can enable 2-Step Verification on your account by heading over here.
Enjoyed this article? Share it!