Today Is Shiny Dratini Spotlight Hour In Pokémon GO
A horde of dragons will descend on Pokémon GO today. Now, do they have huge wings? No. Do they have fearsome claws? Also no. How about a mouth full of fangs that would make a shark whimper? Nope. A horrible visage? No, actually, they're kind of adorable with a little honker nose. Still, these are dragons nonetheless and we're talking about that Kanto classic… Dratini! Today, Dratini Spotlight Hour will run in Pokémon GO from 6 PM – 7 PM local time. Here are the full details.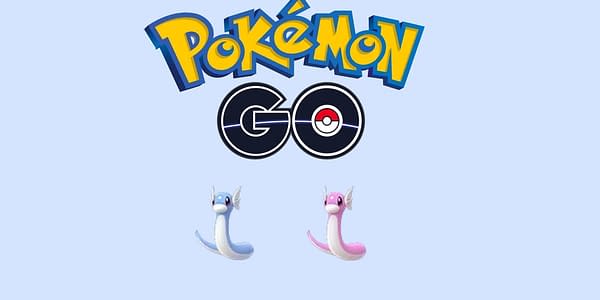 Dratini will be spawning with increased frequency during the hour, even popping up in spots where the spawn points are usually inactive. This is a great chance to hunt for Shiny Dratini, which you can see above with the soft pink palette. Now, the odds of catching a Shiny Dratini are one in approximately 500 (it was once thought to be 450 but Silph Researchers have since updated their findings). It's not possible to increase those odds, but it is impossible to increase the number of encounters you're able to experience in an hour. Utilizing the Quick Catch Method, which you can learn about here, can cut the catch animation and make your catches in Pokémon GO much more efficient even outside of Spotlight Hour.
The Spotlight Hour bonus is double transfer Candy, which unfortunately cannot be taken advantage of while catching. (Unless you have an auto-catcher, but that's a whole different story.) Pokémon GO players will essentially have to choose between either focusing on the Dratini, the bonus, or splitting their attention. When I make this kind of choice, I'll lean toward the final option. I'll catch for ten minutes, transfer for five, catch for ten, and so on.
The rest of the May 2021 Spotlight Hours were announced by Niantic to be:
Tuesday, May 18, 2021: Alolan Rattata will be in the spotlight, and you'll earn twice the XP for evolving Pokémon.

Tuesday, May 25, 2021: Marill will be in the spotlight, and you'll earn twice the Stardust for catching Pokémon.