Tonight Is Rowlet Spotlight Hour In Pokémon GO: March 2023
Tonight is Rowlet Spotlight Hour in Pokémon GO. Let's take a look at tonight's features including the bonus and if Rowlet can be Shiny.
---
Tonight is Rowlet Spotlight Hour in Pokémon GO. From 6–7 PM tonight, Tuesday, March 14th, this Pokémon will appear throughout the hour with increased frequency in the wild. It will also be responding more frequently to Incense and will even pop up in spawn points that are not normally active. You will need to get out there and walk in order to activate that Incense buff, though. This is the second of four Spotlight Hours of March 2023 in Pokémon GO, so keep reading to see what's coming up. First, though, let's get into the details for tonight.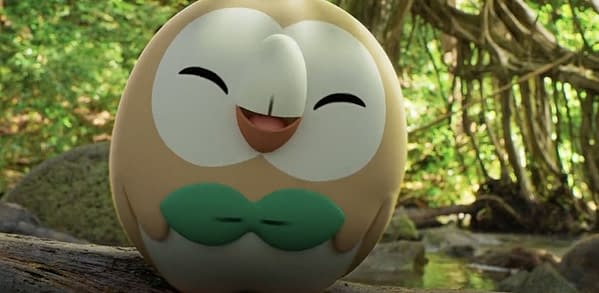 Unfortunately, Rowlet cannot be encountered in its Shiny form in Pokémon GO. Rowlet will likely have its Shiny introduced through a future Community Day but considering we are still working through the Kalos Starter Community Days with Litten and Froakie still waiting in the wings, it is likely going to be quite a while before we see the release of the green Shiny Rowlet.
Tonight's Rowlet Spotlight Hour features a bonus of double XP for evolving Pokémon. If you choose to take advantage of this Spotlight Hour bonus rather than hunting Rowlet, which I'd say is a great idea considering this Pokémon will undoubtedly get a Community Day, be sure to put on Lucky Eggs for the entire time you're evolving.
These are the Spotlight Hours and bonuses coming to Pokémon GO in March 2023:
March 21st, 2023: Litten with double Stardust for catching, cannot be Shiny
March 28th, 2023: Popplio with double XP for catching, cannot be Shiny
The Raid Hours for the month of March 2023 in Pokémon GO are:
March 15th, 2023: Ho-Oh, can be Shiny
March 22nd, 2023: Incarnate Forme Thundurus, can be Shiny
March 29th, 2023: Lugia, can be Shiny
April 5th, 2023: Lugia, can be Shiny
Here are the events coming to Pokémon GO in March 2023:
March 18th, 2023: March Community Day: Slowpoke & Galarian Slowpoke
March 21st – March 29th, 2023: An Every Day Hero + Team GO Rocket Takeover Event
March 25th, 2023: GO Battle Day: Palmer