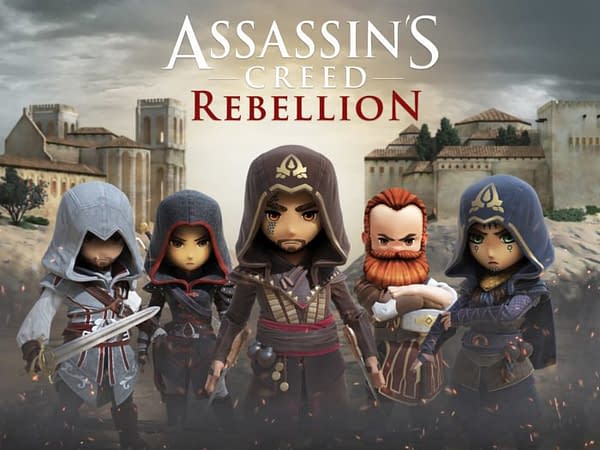 Ubisoft is bringing the Assassin's Creed franchise back to mobile platforms with a free-to-play strategy game that takes some adorable liberties with the art style. Seen above, Assassin's Creed Rebellion will easily be the cutest installment in the lucrative franchise.
Assassin's Creed Rebellion is being developed by Behaviour Interactive and offers a roster of 40 Assassins including fan favorites like Ezio, Aguilar, Shao Jun, Claudia, and Machiavelli. Roughly half of the assassins are brand-new to the franchise and created especially for Rebellion. Not going to lie, they haven't exactly sold me with that lineup, but I guess I'll just have to accept it.
With such a massive cast of characters, Rebellion is mostly about managing your guild. Players will build a Brotherhood HQ and map out rooms that enable new equipment for your assassins to take out on missions, with a look reminiscent of Bethesda's Fallout Shelter.
Working out from that HQ, you'll send out your assassins on missions that most fit their particular sets of skills, from standard missions to gather resources to loot missions for crafting. Players can unlock more assassins by collecting DNA fragments in Story and Legacy missions.
Ubisoft's announcement today promises that a worldwide release of the game on Android and iOS devices is coming soon. Assassin's Creed Rebellion is recommended for iOS 8 and Android 4.1.
The other new installment in the franchise is Assassin's Creed Origins which managed to be one of the most popular games at this year's E3 conference.
You can watch the teaser trailer for Assassin's Creed Rebellion below.
Enjoyed this article? Share it!