During their E3 showcase today, Ubisoft showed off a brand new trailer for their upcoming For Honor event, Shadows of The Hitokiri. You can check out the proper description and the trailer below as we prepare for the event to kick in today and run until June 27th.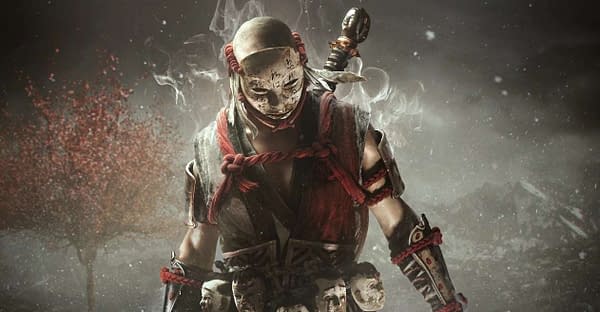 t's not simply a race to kill the most soldiers, however. Each Hero has their own stock of souls, which count toward their team's total, and Heroes can lose their souls if killed by an opposing Hero – who then steals a portion of their souls. Furthermore, downed players will lose their remaining souls on revive, and the only way for their team to salvage their remaining souls is to revive the downed player. Securing souls is crucial to victory, and both teams can deposit their earned souls in designated points on the battlefield, increasing their team's score. The first team to 1,000 points will push the opposing team into breaking.

Named after the terrifying new warrior — the Hikitori — who joined the Samurai faction this season, the otherworldly Shadows of the Hitokiri event also introduces new Illustrious Outfits inspired by death gods, as well as new effects, an all-new emote, and more. There is one Illustrious Outfit available per faction, and each costs 20,000 Steel per Hero in the store. The new emote will cost 10,000 Steel. Neither the Illustrious Outfits nor the emote will be available as lootable items, but both will also be available as part of the Hitokiri Bundles.
Enjoyed this article? Share it!