Valve Reveals Details On The "Dota Underlords" Launch
Valve Corporation has revealed its details on the Dota Underlords launch next week, which includes a special launch party. The company posted details of what they have planned next week when the game drops on February 25th. Which includes a special launch party that will be broadcast live on Twitch featuring several personalities. As you can see from the poster below. We have a little info on how they'll be handling some of the in-game stuff below for you to check out. Hopefully, the launch party will have a ton of info to cover some of the finer details they haven't given away yet.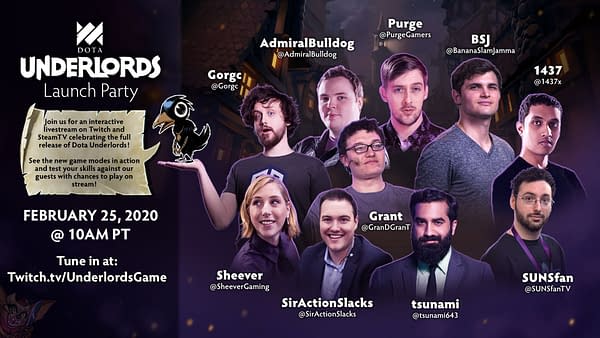 Major Rank
We are doing a soft reset of Underlords Rank. Players will keep their Major Rank (eg. Outlaw, Smuggler, Boss) and will be reset to Minor Rank 1. This shift applies to Standard, Duos, and Knockout ranks. The only exceptions are Lords of White Spire, who will be reset to Big Boss III.

Boards
On Tuesday, we are shipping a brand new default board and five new unlockable boards. For players who reached Level 5 in the Protopass, the two Beta Season boards (below) will be available as well.

The Path to Sunbreeze and Streets of White Spire boards will also be available to Level 5+ Beta Season players.

Additional Rewards for Beta Players
If you reached Level 5 in the Beta Season, you'll also get a golden Ricky Ravenhook board prop and a Beta Season wanted poster title.