VidCon 2019: Chatting With Cizzorz From FaZe Clan
It isn't too often you get invited out to VidCon just to chat with people, but this year we got an opportunity to sit down and chill with Cizzorz from FaZe Clan. The Fortnite player had partnered up with Axe to hold a new contest in which people showed off their creative side in the game. Cizzorz picked out a winner, who got a chance to chill with him in the Axe Ice Chill Lounge live at the event, play a little bit of the game for an hour, and show off all the sponsorship swag. You can check out that video below, but before it happened, we got a chance to chat with him for a bit about the contest and what else he has going on. All while he pimped out the new Axe scent, Ice Chill.
Cizzorz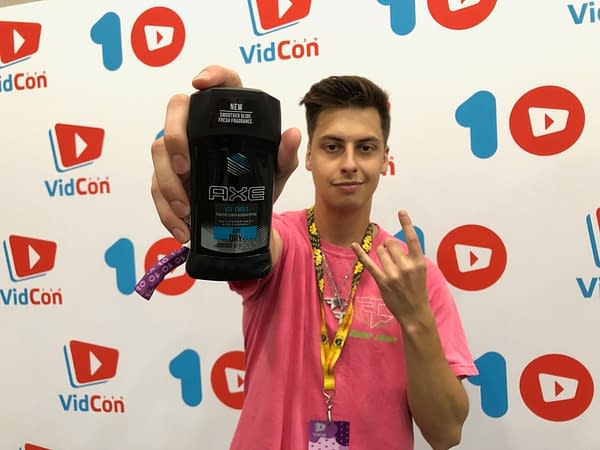 BC: How did the partnership with Axe come about?
Cizzorz: We were both interested in working with each other. So it kind of just happened organically and naturally. We kind of just shout out "Hey, want to work together?" We both were instantly excited. I already kind of help people grow on social media and like do these contests for people, so it was a perfect idea and fit to run an Axe gaming contest with them and find a winner. Someone who's also passionate about gaming and kind of just give them that foot in the door and that push they need to kind of grow in this space.
When you ran the contest from the winner what do you think of the response that you got?
A lot of people were you know super excited to have that opportunity, to not only come meet me but just be a part of this huge contest and have their chance. Because they kind of opened up to everybody which is, I think, what excited most people. It's like "Hey! Anybody can enter, any one of you guys!" So being able to give back to one of my actual subscribers and fans was just an awesome feeling.
Aside from the winner, what were some of the more standout videos that you saw?
There were a lot of a lot of trick shoters coming from FaZe, and their roots was trick shotting and going for montage kills and kind of stuff like that. So a lot of people who are really good at the game, a lot of different creative builds. It was tough narrowing it down. I didn't want to pick just one person. I felt bad because there's so many great submissions but it's just cool seeing people that excited to be a part of my contest with acts.
What was it specifically about the winner that you saw and liked?
No one has really built something. He kind of brings in the more creative aspect because he said he used to make comics and do this art stuff, and he was really passionate about that. And then he kind of got into gaming so now he gets to mix the two, and he makes these cool… Like he just built Godzilla in this town in the game. So I want to do some sort of collaboration with him, because I do these death runs in some of my maps look very bland and boring. They're just boxes and you just get from point A to Point B. But he's making insanely creative creations that look really cool and it's aesthetically pleasing. So I kind of want to make a map with him and combined our two ideas and make something really awesome out of it.
And you're going to be playing with him later today.
We're gonna be streaming later today and we're gonna be at the Axe Ice Chill Lounge they got there, and we're gonna be streaming from there, and who knows. We're probably going to be playing Battle Royale or check out some of his maps, some of my maps, kind of a combination everything. It's gonna be fun.
Are you looking to do more of these kinds of contests in the future with Axe?
Oh yeah, I'd love to. It's kind of been a unique experience so I get to be a part of and really give someone personal attention and help out really one person and kind of be their mentor which is really awesome I love it.
Have you tried the new Axe?
Yeah, I love the body spray.
Is there a favorite scent that you have?
I mean, Ice Chill is kind of just my scent that I've gone with because it's their new one. I like it a lot and obviously growing up I've used Axe products in the past. But it's kind of awesome being sponsored by them now and being able to just get free product and use their product.
How are things going for you on the team and playing these days?
I've been loving life. I took a little vacation as I had said, but just being able to work hard and play hard at the same time. Have fun with friends all the time and being able to just kind of stream and play everything and make videos with my friends kind of makes it that much better. So just loving life always been positive.
What do you have coming up for the second half of the year?
I'm going to the Creative World Cup in two weeks, and then also the [Fortnite] World Cup as a viewer. But being able to be more integrated in the Creative World Cup side of things is kind of awesome. I have my own team that is playing and competing in it. So I'm excited.
Watch LIVE FROM VIDCON!!!! from Cizzorz on www.twitch.tv