Endless Day Starts Strong this Year with Endless Space 2's Vaulters Expansion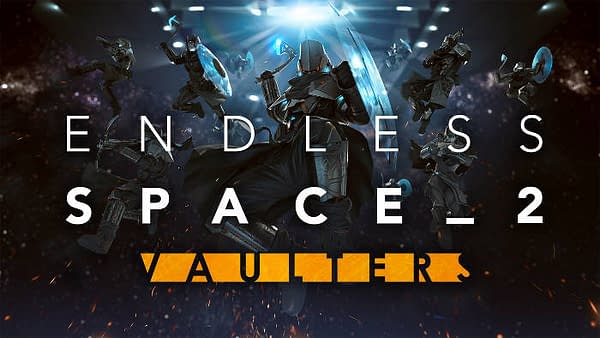 Every year, Amplitude celebrates the studio's anniversary with their players as a kind of community event. For the studio's seventh year of existence they're starting off with the reveal of the Vaulters Expansion for Endless Space 2, which will hit the game on January 25th.
This first Endless Space 2 expansion re-introduces players to the Vaulters, an all-time fan-favorite civilization that has been featured in all the Endless games. [Spoiler Alert for a 3-and-a-half-year-old game] Did you know that in Dungeon of the Endless you play the crew that will ultimately become the Vaulters in Endless Legend? Because yes, you do.
As for what we cane expect from the Vaulters in Endless Space 2, well, we've got a new civilization which means a new way to play the game. The Vaulters will have the ability to teleport and use the Argosy — their legacy super colonizer ship featured in the Prologue video.
They will also have their own heroes (including the famous Opbot), technologies, buildings, a new starting special node, the Sisters of Mercy minor civilization that they brought with them from Auriga, and of course, a brand-new main quest. Will they discover the truth about their Gods? Will they find a new home to start all over? Will they save their people that stayed on Auriga?
The Expansion will also feature new exotic combat modules like boarding and taking control of ships, as well as the Pirate Diplomacy gameplay enabling negotiations with their leader.
You can pre-order the Vaulters DLC 10% off on Steam this week for 10% off.
Oh, and the Free Community Challenge add-on is now live. This free ADD-ON is now available on the GAMES2GETHER platform, it's pretty heavy in content:
New planetary anomaly: the "High Energy Plasmasphere".
New galaxy type: the 6-branches spiral.
New event: handle a new immigration crisis. Do you have what it takes to save the Remnant refugees?
New ship modules: the powerful Swarm Missiles, Railguns and Energy Squadrons!
New hero: Burra Techseeker, an amphibian famed as an exotic ship module inventor.
Mezari fleet skin: a blast from the past! The ancestral Mezari fleet skin for the United Empire civilization!
Endless Space 2 is available on Steam right now, and the Vaulters expansion will be coming January 25th. You can check out the Vaulters expansion in the video below.