Get Ready to Party with Satan in "Afterparty" Next Month
Night School Studio's latest game, Afterparty, will release on October 29, 2019. Just in time for Halloween. Which is the perfect release window for a game about partying it up in the afterlife with the king of hell. The game will retail at $19.99 USD, though Xbox Game Pass subscribers will get access to the game as part of their monthly subscription. PS4 players will get a special dynamic theme to turn their console dashboards into a demonic pub, which might honestly be the best possible platform bonus for this game.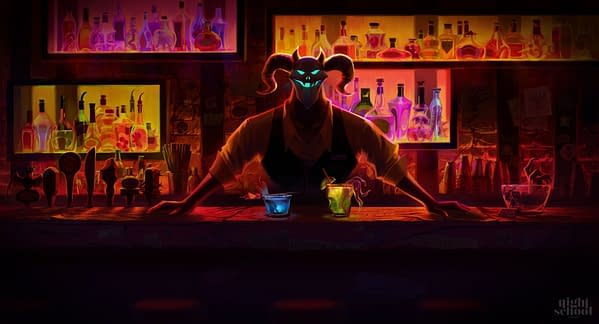 In Afterparty, players will take on the roles of Lola (voiced by Janina Gavankar) and Milo (voiced by Khoi Dao), recently deceased best friends who suddenly find themselves having to spend eternity in Hell. However, there is a way for them to get back to their lives. They just have to outdrink Satan and he'll grant them re-entry to Earth. Unfortunately, Satan has rebranded himself as the "King of Partying."
The game's features include
An intelligent conversation system that will allow players to change the story and relationships based on every decision
An underworld that features an interconnected network of islands via the River Styx
A variety of libations (over 30), each changing the player's dialogue choices and personalities
A large, outrageous cast to interact with, all with their own unique set of problems
Demonic activities including beer pong, dance-offs, and chugging competitions
An original soundtrack by scntfc, who scored Oxenfree
"We're finally just weeks away from launching our boozy buddy adventure, Afterparty, and we cannot wait for players to explore the afterlife," said Sean Krankel, Co-Founder and Creative Director at Night School Studio. "We've spent the last few years building a world, story and mechanics to allow players to star in their own dark comedy. We hope fans of our games and binge-worthy adult animation alike will join Lola and Milo on October 29th in their quest to escape Hell."
More details on the Nintendo Switch launch will be coming in the next few months. Afterparty will release on October 29, 2019 for Xbox One, PS4, and for PC and Mac via the Epic Games store.