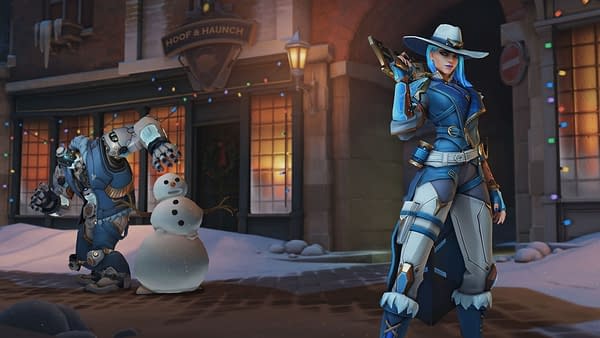 The Overwatch Contenders team Second Wind has announced that their female player, Ellie, has stepped down from the team just weeks after signing. As reported by Variety, her decision to back out of the team comes in the wake of doxxing threats and harassment from members of the Overwatch community.
Unfortunately, due to some unforeseen reactions, Ellie has opted to step down from the team. We hope you continue to support her in her ventures in Overwatch as we will

— Second Wind (@SecondWindGG) January 2, 2019
Ellie signed on to the team of aspiring pro Overwatch players on December 21, 2018, after a quick rise to the top 10 ranks by DPS.
Shortly after the announcement, Ellie tweeted screenshots of a Discord chat where users suggest doxxing her. The practice of doxxing involves revealing personal information about someone for public consumption, usually targetting things like a person's real name, home address, and phone number. It's a common tactic used to intimidate and threaten people. It is also a favored tool of malcontents in the video game community.
According to those critical of Ellie's placement on Second Wind, doxxing her would allow them to figure out how she made it to the top 10 rank position on the Overwatch charts while only having a single bronze star on her account. The suspicious fans suggested that she was using a boosted account, or is hiding her identity because she does not use her full legal name on the official Overwatch Contenders website.
While combatting cheating in esports is a serious issue, the esports scene as a whole tends to be hostile to female players. Overwatch itself has a troubled history on that score as well, as the official Overwatch League roster had no female players at the start of its first season. Top-ranked Zarya player Geguri was eventually signed to the Shanghai Dragons, though she was a mid-season addition. Subsequent seasons did rectify that gender imbalance some, but the majority of esports players are still male.
Which explains why some fans took Ellie's inclusion in Second Wind as worthy of celebration. Even if owner Justin Hughes seems to have concerns about why that would be the case.
(2/2) their Messiah. Between needing a player to live up to huge expectations and having to question their own safety, it seems that the OW community isn't ready to just view a player as just a player. We wanted a player, but it seemed like the public wanted something else.

— Justin Hughes (@SwerteSiJustin) January 2, 2019
However, there is some hope for the community, as The Game Awards did give their Best esports Player award to Dominique "SonicFox" McLean, who described himself as "gay, Black, a Furry" during his acceptance speech. Which is a kind of inclusivity we don't always see practiced by gamers and the industry.
Enjoyed this article? Share it!