You Can Look at Hitman 2 While Playing Hitman 2 Because Hitmanception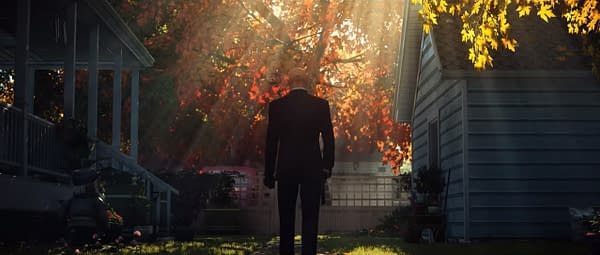 IO Interactive knows that Hitman players love the franchise and love the classic games: which is why you can walk past computers in Hitman 2 that are showing parts of Hitman 2. That is, the 2018 game Hitman 2 will let you stand in front of monitors playing the 2002 game Hitman 2: Silent Assassin. The computers are very clearly showing off the original load screen for Silent Assassin as well as what appears to be some gameplay from a mission briefing for the game, which is some next-level shenanigans.
The discovery was made on Twitter by Abul Kayes shortly after the latest game in the franchise launched last month.
And yes, this was entirely intentional. Both the Hitman and IO Interactive Twitter accounts confirmed it.
This can only mean one thing: Hitmanception has arrived. Agent 47 is now self-aware and we must prepare for the inevitable fallout.
Though, it's hard to prepare for a guy who can assassinate politicians in public with a rubber ducky. May as well pack it in and accept your inevitable, but ultimately hilarious, demise.
IO Interactive is always a little bit wacky with the Hitman franchise, simply because they can be. They even brought in Sean Bean to make fun of his own film career for a time-limited event. Bean's elusive target mission was essentially a satire of every film he's ever died in, with a side of slapstick assassination comedy.
So, naturally, this game is just going to get more absurd from here on out, and we're all for that.