Viva Las Razer: Check Out The New Razer Store In Las Vegas
We had a fun opportunity pop up this weekend as we were able to fly down to Las Vegas and check out the new Razer Store opening along the strip. The location is between The Flamingo and The Linq, down the avenue of businesses run by Caesars where you can shop and get a bite to eat outside the casinos. There, one day before the grand opening (happening this morning at 11:30 am PDT) we were able to check out the place before the (as of when I wrote this) over 500 people long line will invade the space to see what's going on. And I don't think they'll be disappointed.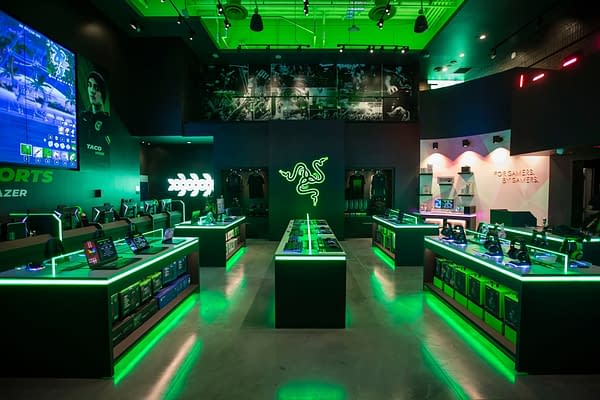 First off, this is going to be a shop for everything Razer-related. Headphones, gaming mice, keyboards, laptops, specialty items, clothing—anything with their branding on it will be here and available for purchase. Even the new Respawn gamer drink is sold here with all of the flavors and moving bottles. Much like when you walk into an Apple store, everything is set up for you to try out and experiment with. They even have PC and Xbox One areas you can dive into and check out how things like their Wolverine controller or latest headsets feel and work. Guests checking it out today will have a chance to play Gears 5 in the store as well!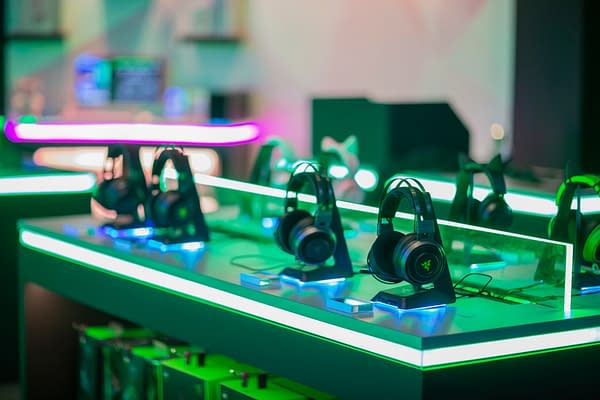 They also set up a special esports area in the building for players to come and try out gear for professional play, and if needed, broadcast live as they compete in the store. There are ten spots set up along the left wall, along with a giant monitor behind the players so you can see some of the action taking place. The store has the ability from a small command center/DJ booth to showcase anything they want in the store or being broadcast live, so the shop can turn into a hub for esports activity. Which is going to be big when events like CES, Dreamhack, and EVO come back through town for tournaments and competitions.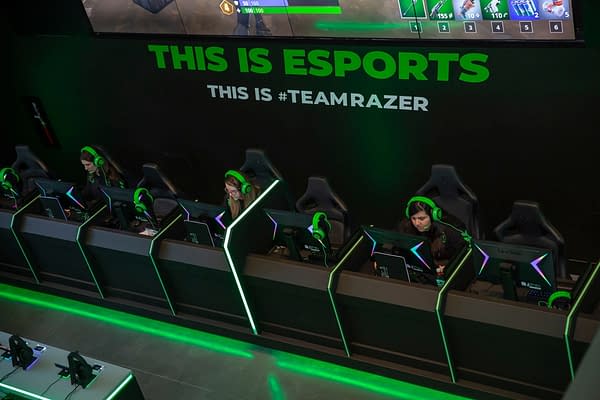 There's also a streaming area up on the second floor. Right now, any streamer can come to the Razer store (with some advanced notice) and do a livestream from the shop at one of two PC's set up for whatever platform you may be on. You don't even need to be partnered with Razer to take part in it, it's just there for those who wish to stream live to take advantage of. You can see the station below.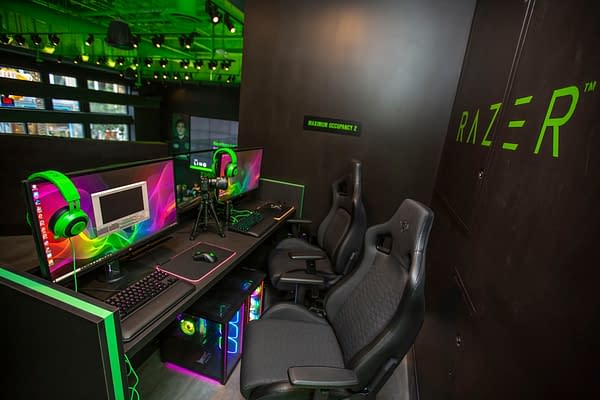 Overall, this was a pretty cool spot to check out. I look forward to seeing what the company does with the spot moving forward as this is in a far-more centralized hub of esports and gaming activity than the San Francisco shop. There's great potential here, and it will also be a landmark spot for when new gear is released. If you're in Vegas, drop by and check it out. And if you're in line this morning, remember to drink water and have fun!