Voodolls Announces April Release Date For PC
Co-op tower defense game Voodolls has been confirmed for release on PC via Steam, which will happen in mid-April.
---
Tate Multimedia and SideRift confirmed this week that they will be releasing their next game, Voodolls, for PC this coming April. The game was already teased last month as the team has currently got the game in Steam Next Fest, where you can play a free demo. So the news of it being released on April 13th via Steam, comes as little surprise. If you haven't tried the demo out yet, we highly recommend doing so while you can before February 13th. Meanwhile, we have the latest trailer here.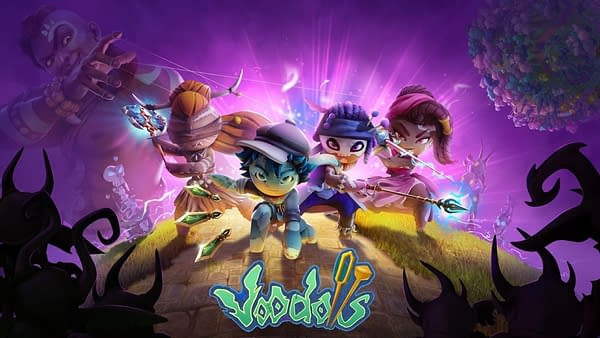 "Voodolls charges players with fighting for their freedom after their souls are trapped in hell. Offered the chance to escape by a mysterious Puppet Master who distills their essence into Voodolls, the play takes the form of intense co-op tower defense battles across 12 planetoid stages featuring three difficulty modes and an endless mode, with the goal being to hold back wave after wave of enemies keen to keep you captive. Working together to defend the Puppet Master and, in turn, keep your hopes of escape alive is the order of the day, with each doll coming blessed with unique abilities that, when combined, are the key to victory."
Multiple Modes: Synergy between action, exploration, and strategic Tower Defence mechanics, including an array of traps and defenses to hold back the hordes of hell.
Round Planets: Stylised and unique worlds, each themed by the four seasons. Team of four characters, each with unique abilities, weapons, and battle tactics.
Solo Or Four-Player Online Co-Op: Defend the Puppet Master alongside three friends in full campaign co-op or tackle the task alone in solo play!​
Story-Based Campaign: Peel back the layers of mystery to uncover the secrets of the puppet master & the dolls​.
Three Camera Angles: Face your foes in immersive first-person mode or take a step back in third-person. Make tactical choices from above in the strategy camera mode. Three modes, and three different approaches in one game.