We Played Around With The SEGA Genesis Mini During E3 2019
An item we had to try out this year at E3 2019 was the SEGA Genesis Mini, and we got our chance to do it during our appointment with the company. After we wrote so many stories about this thing leading up to the reveal, plus all the game announcements the past few weeks, we had to try it out. Much like the NES and SNES versions, this one has the entire library of 42 games easily accessible by showing you the box art for the game for you to select. The controller is a little lighter than the original, and much like it, we still don't know what the hell to use the C-Button for. (SERIOUSLY! It does nothing on half the games you play to this day! Why is it here?!?) As you can see from the photo below, we sat in your friend's parents den and played a few games on the E3 floor to see how it played.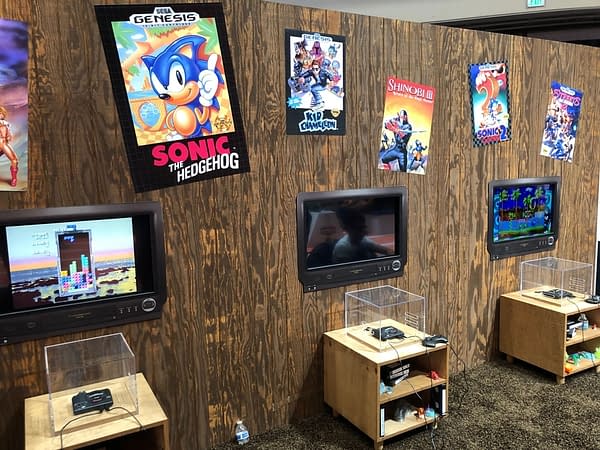 Immediately, I went for Tetris, because so much had been hyped about this version. It plays exactly like the arcade version from back in the day, and much like it, you have to be precise and guide everything down manually. We switched over to Sonic The Hedgehog 2 for some 2-player fun and got a kick out of stranding Tales in various locations only to see him fly back to our side. We busted out Streets of Rage for a minute and enjoyed reliving it to all of its glory. We tried Virtua Fighter 2 for the hell of it and saw not much changed and it was pretty easy to beat. We gave Mega Man: The Wily Wars a test drive for fun and, while it plays fine, it has some issues to this day on response timing. And then quickly finished things off playing a little Strider, so we left on a good note with one of the greats from the system.
Overall, I think the SEGA Genesis Mini is a good retro console, but I want to play with the entire library to see how they all respond compared to other companies releases. But I will say this, it's already waaaaay better that Flashback HD model we got in 2017.