What's in the Box?! – Geek Fuel EXP – Summer Edition
The last time we reviewed a Geek Fuel box, we were told they were changing up their model and were going to be bringing us something more worth our money. Just before we jetted off to E3, we got a little surprise in the mail. Well, not so little. Geek Fuel sent us their brand new EXP box, which we honestly didn't expect to see so soon as we assumed it would be later in the summer. So how does the new and improved seasonal box compare to their former monthly boxes?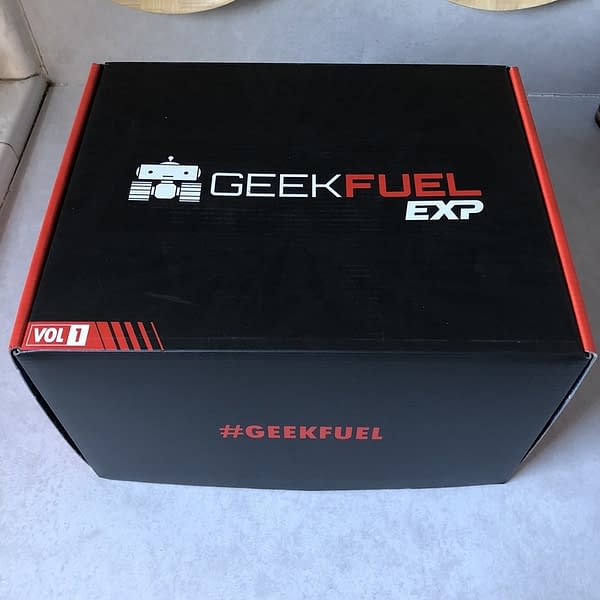 First item on the list is a classic canvas art from Marvel as they sent us a version of Wolverine #1 from 1982. For some of you who may not recall, this series was damn popular in the late '80s and early '90s as Logan went hopping around the globe having adventures, later on with Jubilee as a plucky sidekick. But this was the original comic that would later launch the 1988 series. The art is well done and the canvas is nice. It's a smaller print, so for some, it will be a nice fit while we're sure others would want it bigger. We enjoyed having it.
Moving to the pins of this collection, we get the Planet of the Apes. These are designed off the original series, as we ended up with Dr. Zira and George Taylor after he was stripped of his spacesuit. There were a few more options, including a rare version of Taylor in his suit. The enamel is of great quality and the designs were well done. Plus these are the pins with the rubber backing to prevent tearing on clothes or damage to the skin. All done up like an action figure box with an ANSA pin! A winner if you're a fan of the series.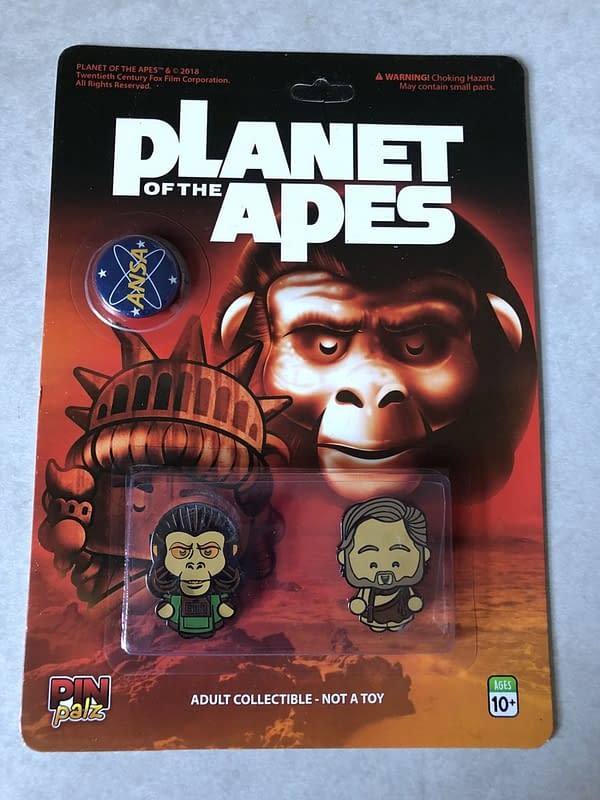 Next is one of two kitchen items we got in this box, and this one had us floored. We got a Teenage Mutant Ninja Turtles pizza slicer! Technically called the Cowabunga Pizza Cutter, this is a decently sharp pizza cutter shaped to look like Raphael's sai. We tested it on a couple different things, including a cook-your-own pizza and it worked out great. This is one of those must-own items for people who love TMNT items.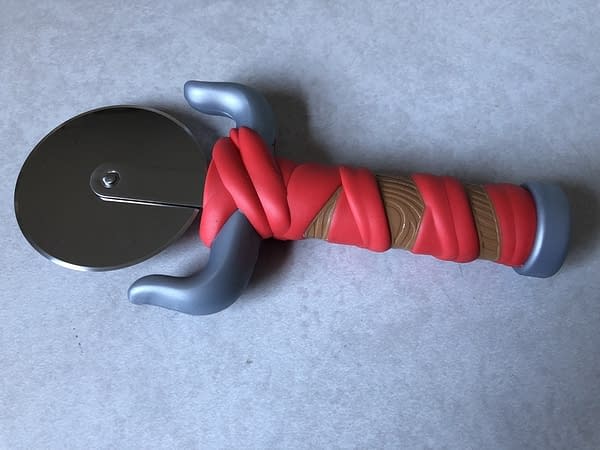 We got a figure in the Geek Fuel box as well, this one being a special Game Of Thrones exclusive Night King vinyl figure. The figure really doesn't do a lot, as these particular toys from Titan are basically there to stand and be posed with their arms and heads as the only moveable objects. The one bonus to this figure is that he glows in the dark. Some people may dig these figures, but we're not really fans of them since they don't really do anything except sit on your desk. But you may dig it if you're a GoT fan.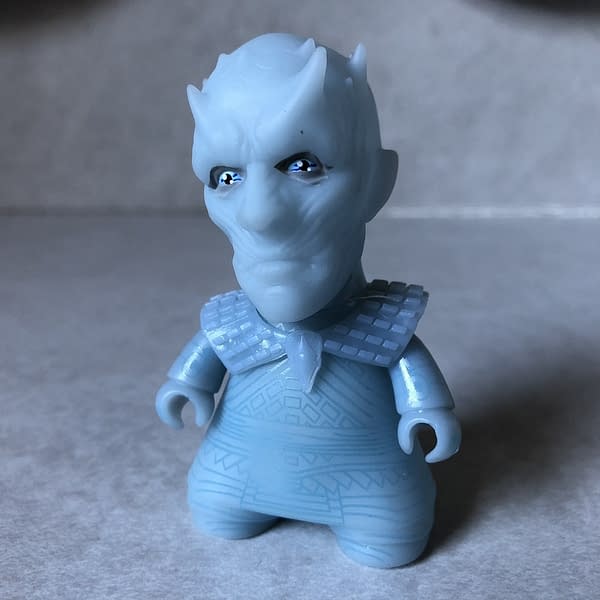 We got a DK book in this box as well, this one for LEGO Star Wars lovers as you get the Chronicles Of The Force. It comes with a special figure from The Force Awakens in the form of Unkar's Brute and, like many DK Books releases, is a treasure trove of information about all things LEGO Star Wars. Since this universe hasn't been expanded upon as greatly as the main canon, you're basically getting a shorter book than you may expect. Its a fun book for kids with a lot of information on the series and the line of toys, even for adults to get into if they've been watching. But it's also kind of niche in that it's for a very particular piece of the audience. Still a great book.
The first of two clothing items in the box and the second kitchen item is a "Bob's Burger Makin' Apron". Aside from the box, there's nothing fancy or thrilling about this, as it's basically an apron with the cast of Bob's Burgers on the front. It is an actual apron that you can cook and clean with, but it's also one of those items where we could see people not wanting to use it because they love the series and don't wasnt to mess it up. We say use it because it's just an apron, and that's what it's meant to do.
Finally, the make-or-break item of the box and the second clothing item: the t-shirt. This one is another Deadpool shirt, as we've seen a few of them over the past month or so to go with the sequel. This one came in a box for the Merc with a Mouth, featuring different versions of Deadpool on the front. Pirate, chef, puppeteer, fake Spider-Man, it's all here. A nice Deadpool shirt for people who like the character but don't need a massive logo. We enjoyed this design and didn't really have any complaints getting it on a darker gray.
Overall, this box was badass! Yeah, there are a few items here that really didn't do much for us, but the majority of the box was a winner. Geek Fuel promised to go bigger and better and the fulfilled on it in a few different ways. We're kinda excited to see what the company decides to do for the Fall box, but that's still at least three months away.