What's In The Box?!: Loot Gaming – April 2018
We're nearing the end of April, so now is the time we're starting to get all of our normal subscription boxes in the mail to enjoy. Last week we got the latest one from Loot Gaming, and while the box looked beat to hell by USPS, the goodies inside were ready to be used! So let's break this box open and see what awesome items they sent us this month.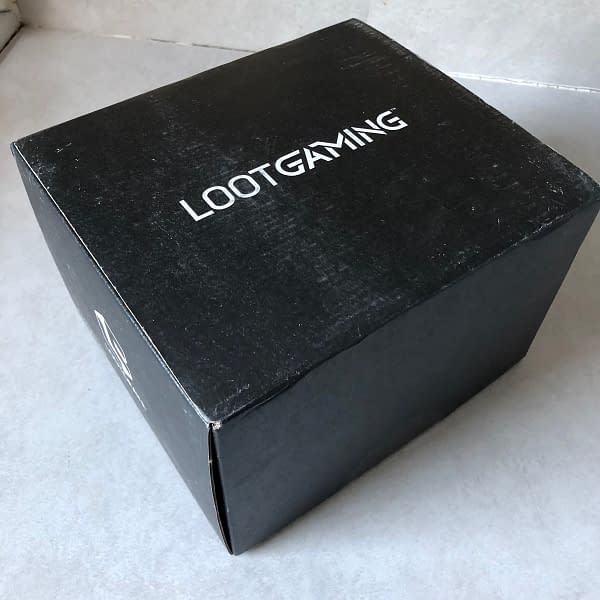 First up are a couple of pins from The Elder Scrolls V: Skyrim. Both of these are symbols from the game from different factions and guilds. The choices that got sent to people are totally random, so there's no real way to snag the specific ones you'd like. The enamel on these is excellent and are well designed so that the symbols pop on the white. These are lovely, but clearly, meant more for Skyrim fans.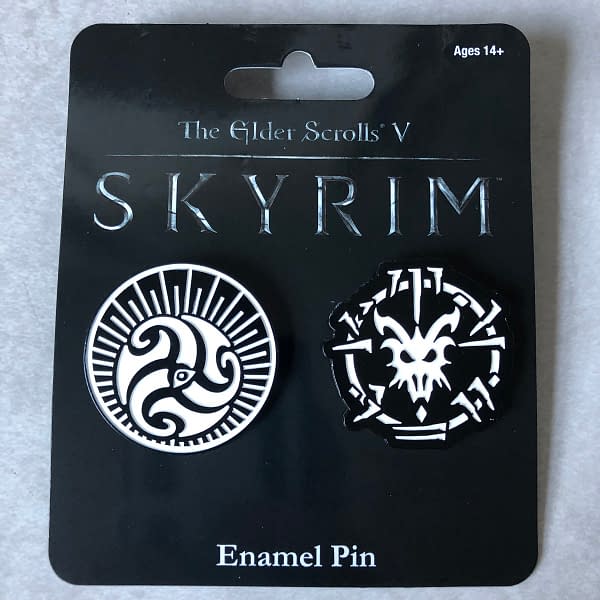 Since we're on the subject of Skyrim, we also got a car air freshener in the shape of the primary dragon symbol. There isn't much to write here about this one as it's just an air freshener. The vanilla scent was a nice change of pace from having others int he past with the traditional scents of lemon and pine.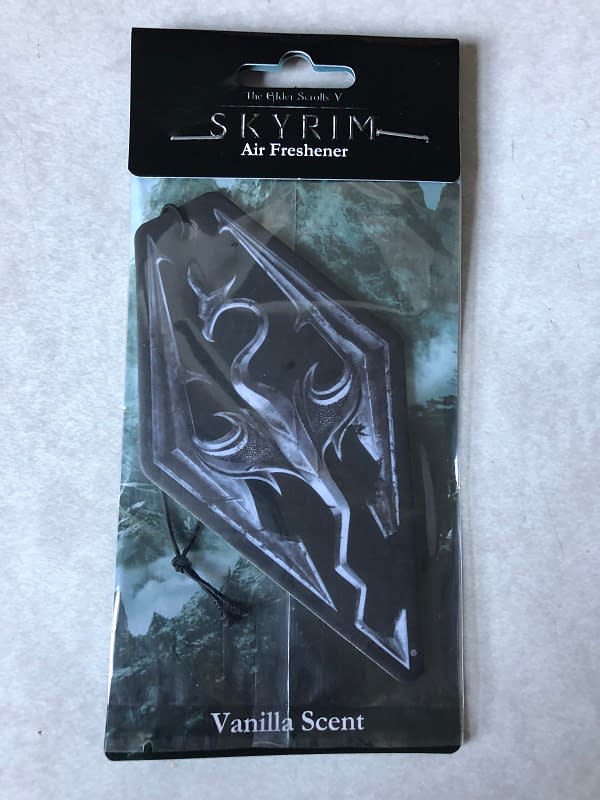 Going back to pins, the other primary pin we got this month was from Sea Of Thieves, with the trademark symbol on the front of the skull with an eyepatch. This design is much better than the Skyrim ones, with washed-out gold to make the pin feel like a gold coin. I like this one a little more than the previous ones, but I'm also a sucker for SoT right now, so I fully admit to being partial to the design.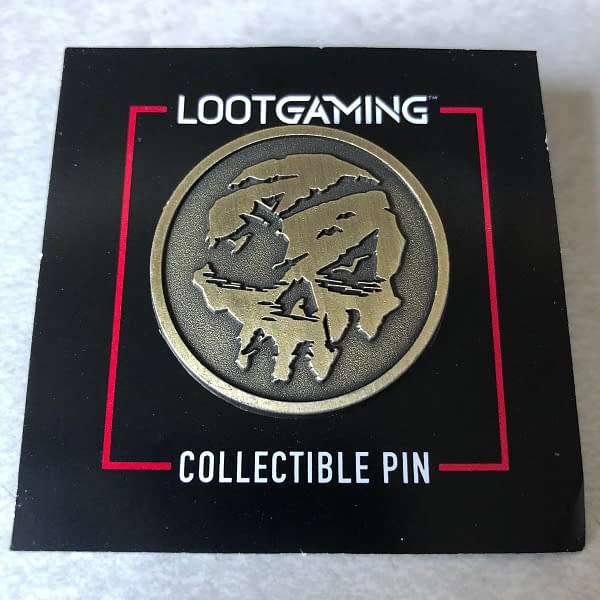 Next up is a delightful little addition in the World Of Warcraft official cookbook. Now, this isn't a joke item, although some might think so looking at the cover. These are real recipes you can cook based on the MMORPG. Or, more accurately, regular recipes you might find in other books that have been catered to match the WoW universe. It's actually a pretty cool book, but I'm not a chef or baker of any kind, so I'll need to test these out with someone who can teach me. That said, it would make a fine addition to any geek's kitchen.
Moving back to Sea of Thieves for a moment, the next item in the box is this Screen Shots figure. To be more specific, we get Captain Flameheart, which is one of the legendary captains you can kill when questing for skulls in the game. There's some really nice detail in this figure from the hat to the coat to the sword to the treasure that surrounds him. Kudos to them for getting his skull correct as it matches up with the game perfectly down to the teeth. This is a fine addition worth having on your desk or shelf as you play, and an awesome display item for casual gamers.
Moving into God Of War territory, the poster in this box is that of the new video game cover, featuring Kratos and "boy" as we keep hearing him called on the ship. Its a lovely little poster, nothing wrong with it, except the fact that its a folded up poster that we need to work the creases out of. Beyond that, it makes for nice wall art.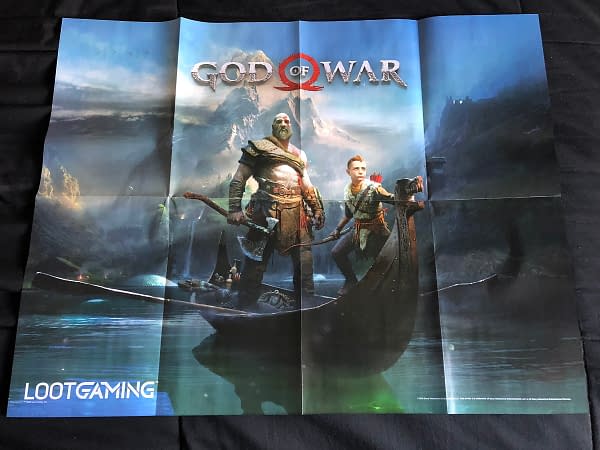 Finally, the make-or-break item of every box: the t-shirt. This one also revolves around God Of War as we get a Norse Horse shirt. The design is fine and the shading on the grey works out, but it's kind of one of those shirts that you need to know the series to know what you're looking at. GoW fans will enjoy it, but casual fans will be looking at this going "what is this supposed to be?" This month's shirt is just okay.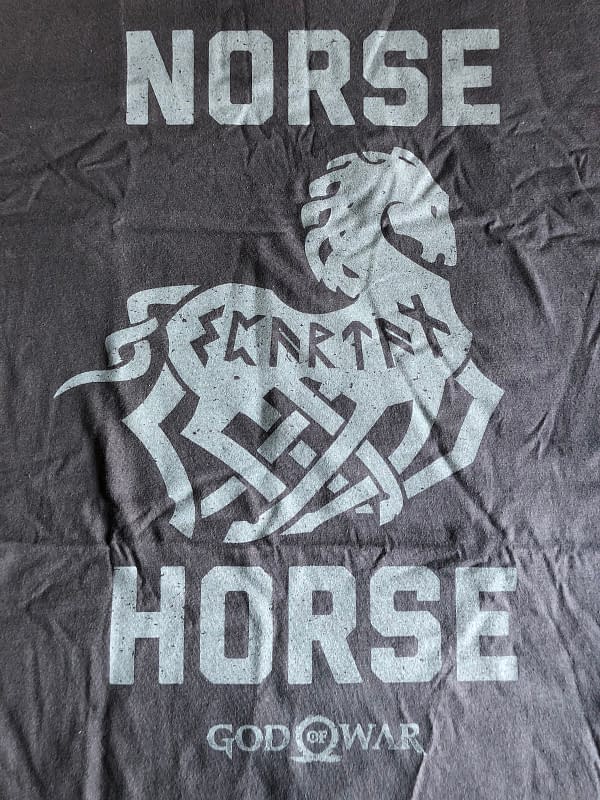 Overall, this month's box is kinda in the middle. There are great items in here and then there are so-so items in here. Nothing in the box was terrible, but there are particular items I look at and immediately think of which friends I want to give them to. We'll see if next month's Loot gaming box improves from this one.