Wintersday Festival Kicks Off in Guild Wars 2 Today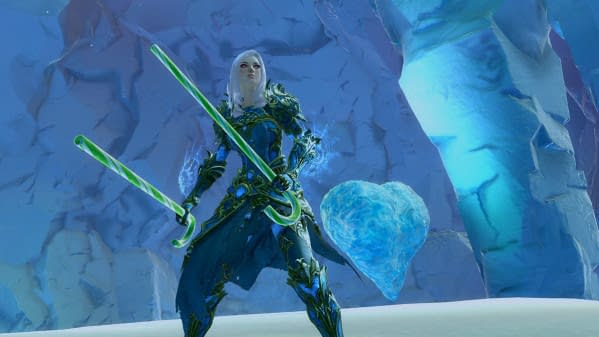 It may be the hap-happiest season of all, but that doesn't mean Guild Wars 2 isn't adding a special holiday battle instance as part of this year's Wintersday Festival. The "Secret Lair of the Snowmen" is a 10-player instance with unique rewards and all new Wintergreen-themed weapons.
Wintersday also brings some new additions to the set of candy cane weaponry, new minipets, rare items from the Wintersday gift boxes, and new meta-achievements. So there's plenty of content to keep you busy.
In addition, players can look forward to the return of their favorite holiday festivities and activities:
The Winter Wonderland jumping puzzle
Mount races through Divinity's Reach
Toypocalypse: Band together with other players to defend gift-bearing dolyaks against an onslaught of malfunctioning toys
Tixx's Infinirarium: Enter and help the jolly Toymaker Tixx prepare to share the wonder of Wintersday with all of Tyria
Bell Choir: Take center stage and make beautiful music to celebrate the season
Snowball Mayhem: Gather as many gifts as possible in this PvP snowball fight
More information on Wintersday can be found on the official Guild Wars 2 website.
The Wintersday Festival event will be running through January 2nd, 2019. If you run out of holiday content to keep you busy, there's still the Roller Beetle Racing event and its roller beetle themed prizes.