Wizards' October "State Of The Game" For "Magic: The Gathering: Arena"
Wizards of the Coast, hot on the heels of the glaring success of Magic: The Gathering: Arena, has issued another "State of the Game" article for the software. They did the same in September, and it seems that it was a much more triumphant article than this month's piece.

The first thing that was addressed by Wizards in their article was the sheer number of bugs and glitches that their software development team has been diligently trying to fix. Between gameplay crashes, issues with connectivity, and lag, Wizards of the Coast has had their hands full for the better part of the last month. At the very least, Wizards of the Coast is monitoring crashes and testing reconnection issues to see how better to deal with the glut of issues.
Furthermore, Wizards of the Coast has reported that the Friends List functionality which they'd estimated would be ready for the October update is in a state of delay amid these bugs. This is a shame because a lot of players have been anticipating the addition to the interface so they could more easily play with friends. However, they've since apologized for the slow output and offered that multiplayer Magic (with drafts and spectating alongside it) is one of the next steps after this is released. That sounds to me like a winning situation.
This seems to be all the bad news that Wizards wishes to report at this time, and thankfully, with the bad news comes a ton of good news as well.
Well, it's not perfect news, but it'll have to do.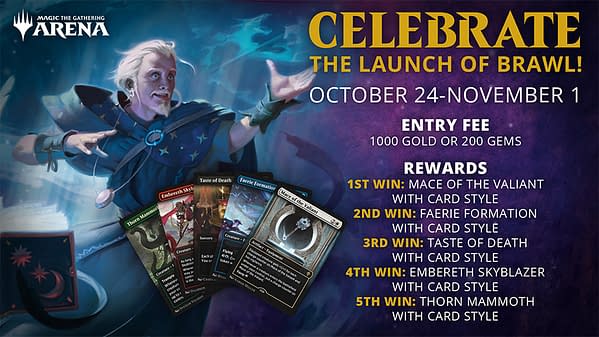 So, the first important thing that was addressed by Wizards of the Coast was Brawl. Brawl is launching on October 24th of this year, in an event which runs until November 1st. The entry fee is either of 1000 gold or 200 gems, and lasts for the entire event. Sounds good, right? Well, if you think that's a good deal, you might want to jump on it because Brawl will only be available for play on Wednesdays thereafter, starting November 6th.
There is a lot to unpack with that in mind. Despite its reputation as a "lesser" form of Commander, Brawl has been a highly-anticipated feature in Magic: The Gathering: Arena due to its status as a fresh format (especially compared to Standard, which is still being plagued by Golos and Field of the Dead for however long – though those cards are being eyed for an upcoming ban).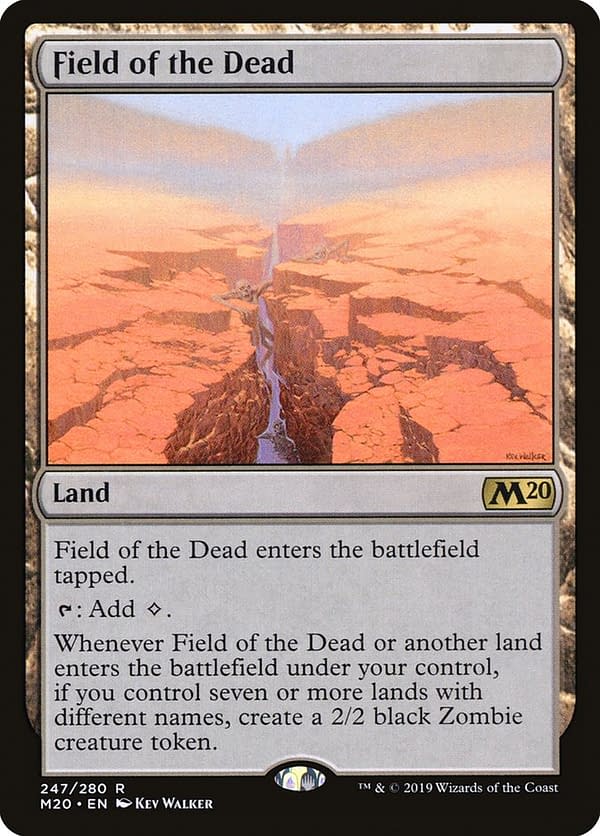 Naturally, there's been some outcry from the Magic: The Gathering content creators on Twitter and elsewhere.
It's important to recognize, however, that Wizards of the Coast is a business, and Brawl will take much more time in consumer testing before it will be recognized as a format worth hosting every day on Arena.
Other news includes the Standard Artisan format, in which the Storybook Showcase frame styles will be released for Adventure cards from Throne of Eldraine. This, alongside Oko's Madness (which was shown to just be Momir's Madness but with Elk) and Cascade (in which all spells have the added Cascade keyword), will give players the chance to get ahold of these special frames. Each of these events costs 2500 gold or 500 gems to enter.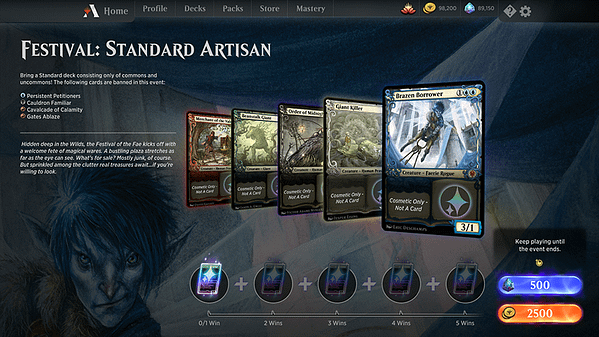 What do you think about these additions to Magic: The Gathering: Arena? Are you happy about the bug fixes in progress? Are you upset about the one day we will have for Brawl per week? Let us know!