Antony Johnston's The Coldest City To Be Film With Charlize Theron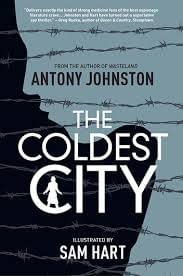 Focus Features is moving forward with a film adaptation of the Oni graphic novel The Coldest City by Antony Johnston and Sam Hart. The film will star Charlize Theron and be directed by John Wick's David Leitch & Chad Stahelski from a script by Kurt Johnstad.
The story is about a super spy (Theron) who, after an underground MI-6 officer is killed just before the fall of the Berlin Wall, must find a list he was smuggling into the West to protect herself and the counter intelligence community. It becomes a game of double-crossing as agents play out global agendas.
The Coldest City is set to start filming this October in Germany.
[Source: Deadline]