This article contains spoilers for Arrow season 6, episode 21, 'Docket No. 11-19-41-73'.
.
.
.
.
.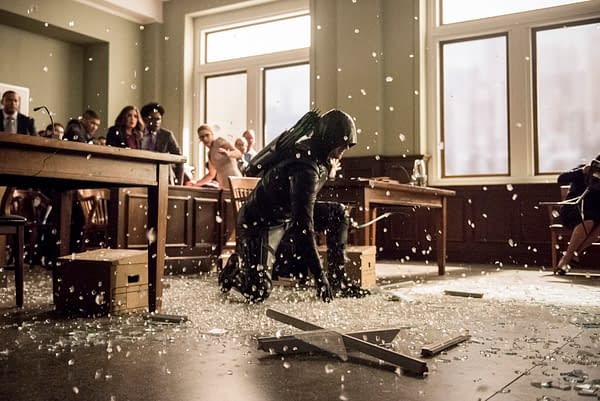 The CW didn't hide that Tommy Merlyn (Colin Donnell) was coming back for the episode, and in doing so they signaled that it wasn't the big twist… and it definitely wasn't. The episode started with an action scene of John Diggle (David Ramsey) dropping into Kasnia and taking on a group of soldiers to free someone who Diggle needs back in Star City. They didn't show his face, but fans of the series probably guessed right there that it was Christopher Chance (Wil Traval), aka the Human Target.
The rest of the episode takes place back in Star City where Rene (Rick Gonzalez) talks with Dinah (Juliana Harkavy) and Curtis (Echo Kellum) about how they're going to deal with the trial and how none of them want Oliver (Stephen Amell) to go to jail. Regardless of what happens, they're going to go and show his support. Rene still feels that Oliver is in this mess because he flipped to get his daughter back.
Meanwhile, the new mayor, Quentin Lance (Paul Blackthorne), does an interview where he assures everyone that Oliver is not the Green Arrow. When Laurel (Katie Cassidy) walks in, they ask her and she says she will answer if subpoenaed. Quentin pushes her to stand up against Diaz (Kirk Acevedo). She gets called to see Diaz, who threatens her that she better testify against Oliver.
The case goes as you'd expect. The prosecution knows everything. Dinah has to take the 5th when asked about the criminal she killed before joining the team. Rene is going to testify for Oliver until Diaz walks in with Rene's daughter, forcing him to say that Oliver is the Green Arrow and had maimed and killed too many to count. Felicity (Emily Bett Rickards) does pretty well on the stand and then Oliver is brought up. He tries to clear Roy's name, but before he can go much further, the Green Arrow drops in through a skylight. He reveals himself to be Tommy Merlyn and testifies that he has been the man in the hood for the past six years.
When the judge has him placed under arrest, Tommy says that's fine as his team will extract him. And they do, easily, and as they leave we see that it is Chance in a mask. Oliver should be happy, but he was really thrown off seeing that Chance was wearing Tommy's face. But before they can even get close to happy, Quentin comes in and tells them that Laurel is supposed to testify that Oliver is the Green Arrow and she has Chance's CIA record and what he does.
Oliver, sensing the end coming, tells Felicity that if he goes to jail, she and William need to go into ARGUS protection. His lawyer suggests he admit to being the Green Arrow and prove that he's a hero and doesn't deserve to go to jail. He refuses — he wants to be able to stop one day and lead a normal life. They find out that the judge is likely on Diaz's payroll and he probably got to the jury as well. Laurel is called to testify, but when asked who the Green Arrow is, she says Tommy Merlyn. The case goes to the jury, who you would think would have reasonable doubt after everything, but they come back with a guilty verdict… and Jean Lorning (Teryl Rothery) asks for a judge's decision, overruling the jury verdict. The judge thinks about it, then agrees that there was too much reasonable doubt for the jury to reach a guilty verdict. Oliver is free.
Back at the bunker, we find out that Chance took over as the judge — a plan Rene came up with. Oliver goes and thanks Rene, and there may be a bit of a break in the feud between the teams. Diaz is pissed — he kills the judge without even listening to what happened. Laurel arrives to kill Diaz, knowing she can't run from him. She knocks him down with her cry, takes out his guards, then moves in for the kill — but her powers won't work. He's got a jammer. His men take her and he announces that he's now going to kill Oliver and everyone he cares about.
The Verdict
They did a nice layering here of surprise twists. The previews showed us Tommy, so when it was revealed to be Chance, it seemed like that was the twist. And when it all went bad, it seemed like Oliver was going to prison, except Laurel saved him… which also sort of expected. But when the jury said guilty, there didn't seem to be any more cards to play. They layered so many expected and unexpected twists that the final one came out of the blue. It helps that co-showrunner Marc Guggenheim was/is a lawyer.
I was genuinely surprised by the final twist, which was nice. It's definitely time to wrap up this season though, as I think fans are tired of how bad things have gotten for Oliver — and indications are that the season finale isn't going to be a happy ending.
What's Next
Diaz's plan has fallen apart, and while it seems like he controls enough of the city that he could put it back together again in some way, it appears that he has been pushed too far and is now going to just kill everyone. With only two episodes left, the time for subtlety is gone, and Diaz is going after both Team Arrow and their families.
https://youtu.be/RmfB31uHcr8
Enjoyed this article? Share it!