When the CW's president Mark Pedowitz talked about the upcoming 4-show Arrowverse crossover, the one phrase he used to describe it was: "Love is in the air." Now, last years crossover was about aliens and everyone learning about Flashpoint. Now as a long time comic book reader, I hear someone talking about love and the DC Universe, I think Star Sapphires (the Violet Lantern Corps) that is all about the emotion of love. It would be interesting to see them come in and show our heroes their greatest loves. But I don't think we're going to get the Star Sapphires this year.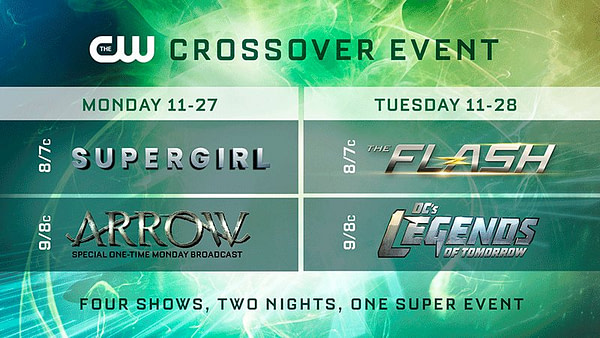 Greg Berlanti and Marc Guggneheim did elaborate a little bit on the theme, how they planned to top last years Invasion and how doing four shows in two night changes the dynamic:
Berlanti talked about the 'love is in the air' line from Pedowitz:
Our way of making the show bigger this year was to go even more personal, so it's a big life event for a few different people on the show.
Asked if he meant a wedding:
There are many life events that happen.
Guggenheim spoke about the new two-night format:
We're really approaching this big four-part event as two back-to-back two hour movies, and I think when you look at it through that lens, it becomes less important for the Supergirl episode to feel like a Supergirl episode and the Arrow episode to feel like an Arrow episode, which was always our approach in the past.
The Star Sapphires would still totally work with everything they said… just saying.
The crossover kicks off on November 27th at 8 PM with Supergirl and continues at 9 PM with Arrow on a special night. Then picks up on November 28th at 8 PM on the Flash and concludes at 9 PM on DC's Legends of Tomorrow.
Source: IGN